What is going on with Honda?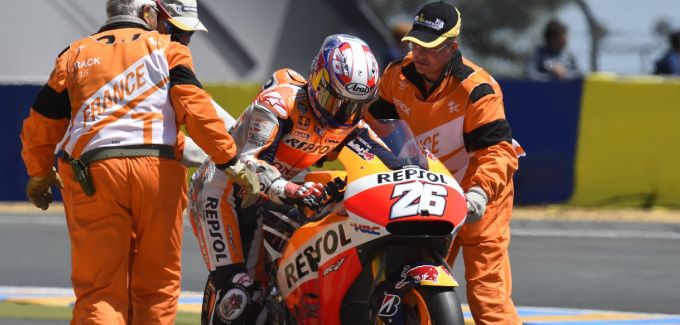 What's happened to Honda? The all conquering, and all powerful Honda Racing Cooperation were expected to dominate once again in 2015, and claim a fourth MotoGP World Championship in five years. However, in Le Mans we witnessed something very strange, and something nobody was used to seeing. What we saw is the Honda RC213V, in the hands of reigning double MotoGP World Champion Marc Márquez, behave like the kind of machine with a the reputation of a Ducati.
After five rounds this season, Honda have claimed just two podiums, a win for Márquez in Austin, and a third place in Jerez. Yamaha meanwhile have four race wins, and three further podiums.
Le Mans saw all the Honda riders have real issues with the front end of their motorcycles. A lack of front-end feel, and signals saw experienced and inexperienced riders caught out. Both Dani Pedrosa and Scott Redding ended up in the dirt after losing the front end, whilst Cal Crutchlow also joined them on the floor – although he admitted his was due to a mistake, but it was a front end crash none the less.
So what has happened to the RC213V I hear you say? Well, it's not something that has come out of the blue this season. Last year, Marquez sheer domination, meant Honda could afford to take their foot off the gas with the championship wrapped up by the summer break. Attentions at HRC shifted towards the Moto3 effort, a decision that, in the short term, was vindicated, with Alex Márquez claiming the Moto3 World Championship. It has however, left Honda behind the eight ball in 2015.
Honda had issues with the swing arm on their 2014 machine, and were able to throw enough frames at the bike, for it to work well enough for Márquez to, well flatter with results. 2015 saw Honda push for more, especially with the leaps and bounds in which the Yamaha has come on. Now equipped with a fully seamless gearbox, the Yamaha M1 once again looks the best bike on the grid, and this is only backed up further with Rossi and Lorenzo sat one and two in the MotoGP World Championship standings. Unfortunately for Honda, it hasn't their 2015 plan hasn't worked.
The first MotoGP pre-season test at Sepang saw Honda bring four bikes for both Márquez and Pedrosa to test. They both did extensive work on the bikes, with the biggest difference between the four being the swinging arm. At the time, everybody thought it was a sign of power. The general consensus was that HRC had brought four bikes; they'll take the best, whilst the other three would still probably earn a podium, or something along those lines. It now appears, that instead it was a sign of weakness, and worry from Honda. They didn't know what the best bike, or the best path to take was. To say they didn't know what they were doing is a tad extreme, but they were certainly a lot more worried than the image was giving.
Despite being so dominant, the Honda isn't an easy bike to ride. It's not an easy bike to ride like the Yamaha, or, interestingly, the GP15. The RC213V is a bike that needs to be ridden to excess in order to gain good results. A physically demanding bike, which Cal Crutchlow admitted after his first outing, back in Sepang. "I'll tell you what, it's a hard bike to ride," he said. Whilst Scott Redding said the full factory machine is much harder to rider than the customer bike he was on last year. "It's a difficult bike to ride, a lot more than the Open Honda," he explained.
There is now a feeling in some quarters in the paddock, that the Márquez/Honda connection is reminiscent of the Stoner and Ducati days. A bike which got progressively harder to ride, whilst the rider somehow managed to get exceptional results, whilst other riders struggled. Márquez asked for smoother power delivery for his 2015 machine, and whilst the frozen engines won't be able to help too much, Honda are hoping a new chassis can somewhat aid that. Now, that is an absolute extreme. There is no way the 2015 Honda RC213V is anywhere near as hard to ride as the Ducati Desmosedici GP8.
What won't have helped the state of the current bike is the absence of Dani Pedrosa. Pedrosa has ridden a Honda since the 990 days. His development skills, and general feedback have been invaluable to Honda, and is one of the reasons to why Honda kept the Spaniard on, when many have lobbied for him to be replaced. With arm pump issues keeping him off the bike since Qatar. Pedrosa wasn't happy with his bike when he threw his leg back over the tank in France.
"We need to improve the bike urgently, which is quite difficult," said Pedrosa after Sunday's race, which saw him remount after his crash, and finish sixteenth on his comeback from surgery.
"I feel some areas where we have trouble with this bike. We need to consider how and where we can make the bike better. I hope to come up with ideas in the next few weeks. Nothing is clear. We've fallen back, and we have to catch up with our rivals. I rode on my own at Le Mans, so I can't estimate exactly where we lose time. I think we're losing out in drive out of the corners."
Márquez echoed the concerns of his teammate on Sunday, although he tried to remain slightly more pragmatic about this situation.
"We have seen in the race, that all the Honda riders have complained about the same problem," he said. "This is reassuring in some ways, but we must ask ourselves why the circumstances have had a negative impact with the high track temperatures, and why its only effected us. The weather was the same for everybody.
"Our problems can't be solved overnight. In any case we have a lot of work ahead of us. We have trouble with drive in the corners, because we slide badly. We have since improved a bit, but not enough. The Monday test in Jerez helped me understand why I didn't win the race there. But the improvements we made haven't made a huge difference. We just need to become a tiny be better."
There had been whispers that Márquez was unhappy with the quality of the Honda testing, and that is one of the reasons Nakamoto San and HRC have sought the talents of Casey Stoner to aid them overcome these issues.
Whatever Honda decide to do, you would anticipate on it working, and with Marquez at the helm of any bike, it's too early to write him off, even if he is over a race win in points behind Valentino Rossi, but Honda need to figure out what the issue is sooner rather than later.
Photo via Repsol Honda