Marquez & Pedrosa get first run out on 2015 RC213V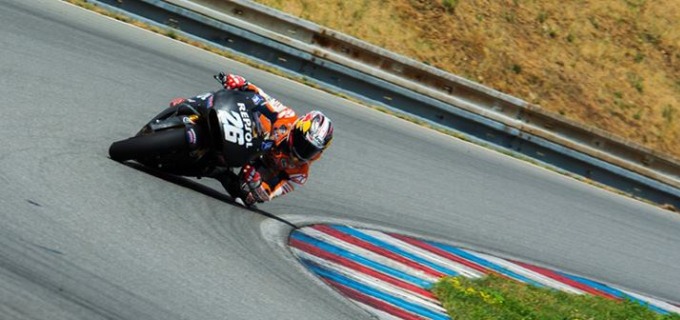 Reigning MotoGP constructers champions, and current championship leader, Repsol Honda, have been in action, in a private test in Brno. The Repsol Honda duo of Marc Marquez and Dani Pedrosa this morning got their first taste of the new 2015 Honda RC213V.
After yesterday's test day was hampered by rain, the debut of 2015 RC213V was postponed until today, but both Marquez and Pedrosa got their hands on the new machine today. Marquez managed to get through 20 laps on the 2015 machine, and Pedrosa managed 16. Both riders were happy with the new bike, and noted the corner speed and stability as the main area of improvement from the current 2014 machine.
Marquez suffered another small crash this afternoon in turn five, but it wasn't serious and Marquez will be back on track tomorrow.
"The second day went fairly well, although the grip level was still not as high as we would have liked in order to correctly carry out the testing that we had planned," said Marquez. "When we wanted to go a little faster to get closer to the limit and evaluate things, it was very risky. Giving it a try this morning I had another crash at Turn 5; once again, I lost grip with the front end.
"During the day we were able to try out the new bike and the first impressions are fairly good. Obviously there are positive things and not-so-positive things, but the first impression is satisfactory. We put in similar times with the new bike to what we did with the current model, so we are happy."
Dani Pedrosa was happy to get his first look at the 2015 bike, even if the track was still lacking in grip.
"Today we put in plenty of laps, all of them on a dry surface. The weather was more stable and allowed us to try a lot of things," said Pedrosa. "The track still didn't have too much grip, but we were able to put more kilometres under our belts and get a first impression of the new bike.
"The new machine is still in its infancy, but we have some good ideas for when we next get a chance to test it -at the end of the year."