Exclusive interview with Fabio Quartararo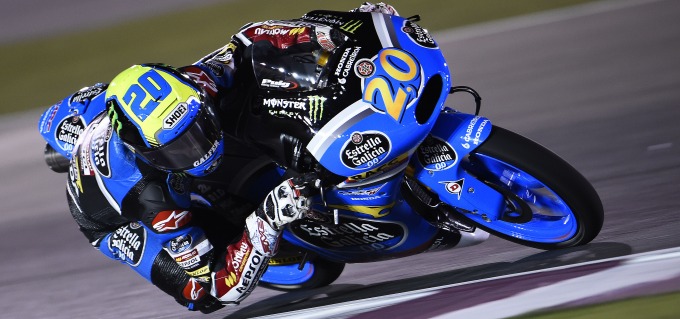 It's unlike anything we have ever seen. Never before has a debut come with as much expectation as the one Fabio Quartararo is set for. Quartararo is France's great hope in world championship motorcycle racing. The expectation and pressure is astronomical, despite the fact he is yet to complete a world championship lap – prompting comparisons to some of the best riders this sport has ever seen.
Shortly after dominating the first Moto3 test of the season, the motorcycling world was awash with questions, a lot more questions than answers regarding the fresh-faced French fifteen year old. Was he the new Marc Marquez? Is he going to win the title in his first season? Questions that seem crazy when being asked of who won't turn 16 – the legal age to race in the World Championship – until the day after the third round of the season in Argentina. Despite more questions than answers, the entire motorcycle world will have their eyes firmly fixed on the Estrella Galicia 0,0 Honda, with the number 20 on the front.
Four world titles in five years by Marc Marquez, and the Moto3 title won by younger brother Alex last season has seen the Marquez mantelpiece get a major revamp over the past five years, leaving many questioning if we are set for a period of domination by a pair of brothers unlike anything we've ever seen before. That was until Fabio Quartararo entered the fray. Those who have seen him have said he can win it all. He can do to Moto3, what Marc Marquez has done to MotoGP. They will be expecting similar performances to those he managed on course to back-to-back Spanish Championships. Those who hadn't heard of him have been left wondering just what all the fuss is about.
The people who know about Quartararo aren't short in forthcoming with compliments for the French teenager who will've no doubt helped create the ideology that he is Marc Marquez 2.0. Valentino Rossi has tipped him to win the Moto3 title, whilst the men with opinions at HRC, Shuhei Nakamoto and Livio Suppo have already tracked out his path to MotoGP. Herve Poncharal claims he's never seen a French rider with this much talent, whilst competitors such as Jonas Folger and Romano Fenati consider him to man to beat in Moto3 this season.
Couple those compliments, with the fact the Grand Prix Commission decided last August to lower the age limit required for a reigning CEV champion to enter Grand Prix – unofficially labelled in some quarters as the 'Quartararo rule' – and you quickly realise that this teenager in question isn't your average 'prodigy', he is a genuine superstar already.
What does the man, or boy, himself think of this praise, and the links with Marquez, a back-to-back MotoGP World Champion? "It's very exciting, but I can't be compared to Marc Marquez," he said with a hint of embarrassment that people are already making these comparisons. "Marc is a four time World Champion, and I am just the Spanish champion. It is very exciting, and it's certainly motivation. But I don't think we can really compare the two of us. He's the best rider in the world, and I'm just a rookie. I need to learn a lot before I can be compared with him."
Despite, very wisely, distancing himself from the Marquez comparisons, Quartararo's rise into the World Championship is almost unparalleled. Marquez didn't have this level of fanfare heading into the World Championship back in 2008. In fact it took Marc Marquez two years to win his first race in Grand Prix's a record Quartararo looks certain to better. He will be going into, essentially the 'factory Honda' Moto3 outfit, run by Jordi Arquer, with the personal backing of Emilio Alzamora. Quartararo has the right people around him, he has all the right kit under him, and he's just walked into a World Championship winning garage.
Moving from the junior team in CEV into the full World Championship team, taking the seat of outgoing 2014 Moto3 World Champion Alex Marquez. With Marquez moving on, he hasn't been shy in helping Quartararo with his transition from CEV to Moto3. "My crew chief, Xabi and I, have both spoken to Alex, and he's been very helpful. When we arrived in Jerez [for the second test – Ed] we looked at a lot of the telemetry and data of Alex, in relation to my laps.
"Now I want to work the gearbox harder, so work on the ratios out on track. We can learn a little bit more in Qatar, and at tracks I haven't been to, by looking at his data. It defiantly helps remaining with the same team."
Quartararo isn't the first champion of a smaller feeder series to come into Moto3, and not all have had results that matched their form earning them their seats. Karel Hanika for example, is a double Red Bull Rookies champion, apparently the best feeder series into Moto3. Yet in his first season in Moto3, he failed to claim a single podium. What makes Quartararo different is he already has established himself as competitive.
The CEV Championship visited Barcelona a week after the MotoGP paddock had been there. In very similar conditions to those found a week before, Quartararo was breaking the circuit record. This was on a bike which, according to Quartararo himself was: "Is very similar, but doesn't have as much power at the top end as the World Championship bike does." As if doing it at the Circuit de Catalonia wasn't enough, he then claimed two more track records in Valencia and Jerez at the two pre-season tests.
His rise was sudden, but it seemingly cannot be stopped. His first season in the CEV Championship in 2013 showed exactly what the Frenchman was made of. He was riding a distinctly average FTR Honda, a bike, which was being dominated by the far superior KTM's, when he went into the penultimate round of the season 37 points off the title leader, and sat in seventh position, with a maximum of 75 points to play for. A revamped training programme and a revised chassis later, Quartararo built up an unstoppable wave, and he rode the crest of that wave all the way to three consecutive wins, earning him the crown. In doing so, he became the first rookie, and youngest rider ever to win the title, at just 14 years and 217 days of age.
The Spanish press knew they'd seen something special. 'A Star is Born!' ran the headlines in the Spanish Motociclismo magazine. 'Pure Dynamite!' said Solomoto. Can he replicate this success on a World Championship level this season?
"I think it's everybody's ambition to win the world championship, but my goal this season is to have fun on the track. If I can win the world title then it will be great. I think I can have good races at the tracks I know, but I am not thinking about what I can do in terms of a final championship position. I just want to have fun, and improve every time I go out on track," said Quartararo.
"I want to fight with all the riders, and of course I want to be close to the front. But mainly, I was to fight, and fight with the best riders in the world. It's a big change from last year, because we are now racing against a very high level of riders. We must work a little more, and we will then see how we fare at the first race in Qatar."
Quartararo's second season the CEV, is where he really came into a league of his own, winning nine of the eleven races. Even in the face of a brief challenge from Jorge Navarro, he ended up winning the title by now fewer than 127 points, the equivalent of over five race wins! Jorge Navarro finished second to Quartararo last season, and he put up the closest thing to a challenge on his crown, and he will be team-mates with him this season. This is something that Quartararo feels will work to his benefit, racing somebody who he has raced with, being able to constantly grow, and improve with each other.
"I think its motivation having Jorge on the other side of the garage. I think it'll help me, because as both Alex Rins and Alex Marquez showed last season, a fast teammate makes you want to go faster. Alex Rins wanted to go faster than Marquez, and the same the other way. It will help me, I can grow and improve with my teammate."
Quartararo's riding style is much closer to that of Jorge Lorenzo's, as opposed to Marquez'. Corner speed and keeping it tidy and in shape is how the Frenchman rides, rather than loosely and on the verge of crashing, much like the current MotoGP World Champion does. Indeed, Rossi noted his riding style when he invited the 15-year-old to his infamous ranch for some pre-season fitness preparation, noting "a very particular style of riding".
So, it all looks a foregone conclusion you may be thinking. Nobody is going to stop Quartararo, so there's no point in racing Moto3 bikes this season? Well, every rider has a weakness, and for Quartararo, it's inexperience. Breaking lap records at the circuits he knows, he has only raced at five of the 18 circuits that he will visit this season. This is something he is all too aware of, but ready to use all the resources available to him.
"I prepare for the new circuits with my Playstation. I play with all the tracks I haven't been a little bit. I also watch the past races. It's good for me to see the whole race. As well as learning the track, it helps me to see where we can pass other riders. It's really helpful to have the races on television."
It will certainty be harder than just playing on his Playstation for Quartararo. And there are still questions to be raised how he will fare if he ends up getting "beaten up" and finishing the first race in tenth. What would it do to his confidence? Valid questions we won't have answers to until the lights come on in Qatar. Under the wing of Alzamora, there is no reason as to why Quartararo cannot replicate the success had by Marc Marquez. His father, Etienne Quartararo, attends the races, much like Julian Marquez does, in nothing more than a supportive capacity. The crew around the teenager will ensure he has the very best equipment, and his feet remain firmly planted. There is nothing stopping Fabio Quartararo winning the Moto3 title this season, and, who knows, we may have found the one person capable of stopping the Marquez dominance.
Photo via team Estrella Galicia 0,0