Andrea Iannone exclusive interview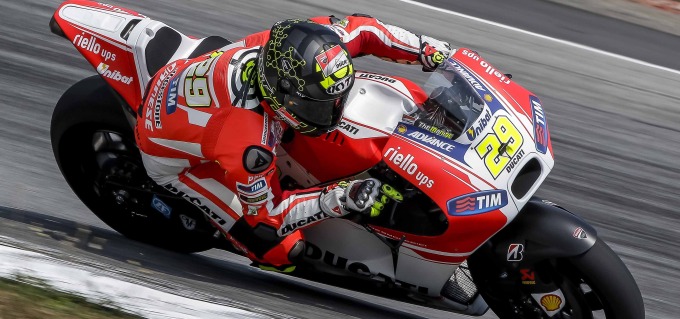 Andrea Iannone is a character. In an age of media robots, Iannone is a breath of fresh air. He doesn't require a parental guidance warning like Jack Miller, nor does he attract attention like Colin Edwards used to. But what you do get with the 25-year-old Italian is a sense of freedom and fun.
The sense of fun is evident both on and off the track. The Maniac as he now calls himself, which in itself an advancement from Crazy Joe, and Maniac Joe. Quite how that nickname came about is anybody's guess. Stories have been told, saying that the stories originated from an Italian cartoon, his OCD nature with his bike, a nickname assigned by his Moto2 mechanics, or his behaviour as a teenager on scooters in Italy, but none of that's important. What is important is that it certainly is a fitting name.
Unlike most Italian riders, Iannone wasn't born, and bought up in the Rimini area of the Adriatic coast. He is from a small town 200 miles further down the coast called Vasto. His father would take both Andrea, and his older brother, Angelo, up the coast to race on the mini-moto circuits in Rimini. Angelo was already racing against famous names such as: Corsi, Simoncelli and Andrea's teammate for 2015, Andrea Dovizioso. Despite not being from Rimini he has embraced the Rossi day-glow yellow, and his bright 29 on the front of his bike was a common sight near the front of the grid in 2014. Iannone hasn't been a labelled "wonder kid" at stage of his career. He was never regarded in the same bracket as Marc Marquez or Pol Espargaro, this is in spite of often dominating races they were all a part of during their time in Moto2. A trio of third places in the Moto2 World Championship, before moving into MotoGP, the learning and change in riding style has been clear from day one.
"My riding style has changed since my days in Moto2," Iannone explained, speaking exclusively to GPxtra. "In MotoGP it changes for sure because we have such a high technical level and such a high tyre performance that you have to change your style. The Bridgestone front allows you to brake very strong and keep braking until you enter the corner. It's important to change your style with the power of the MotoGP bike to be able to get the most out of the acceleration."
For 2015, Iannone will ride for the factory Ducati team, a seat he has earned through two years of hard graft on the satellite Ducati bike – not the bike held in the highest regard if you ask Messrs Rossi or Crutchlow – as part of the Pramac team. 2014 really saw Iannone come into his own, as the GP14 (.1,1.5,2.3…) started to show it was moving in the right direction. Iannone, with the aid of the softer rear tyre available to him, and all Ducati riders managed to claim five front row starts in 2014, and was leading the races in Aragon and Valencia during the early stages, showing he has what it takes to compete at this level.
Being an Italian, and being a factory rider with the Ducati team is an honour for an Italian, and it's something Iannone has been working towards for the part two seasons whilst in MotoGP. "It's vitally important for me to be in the factory team, it's what I've wanted for the past couple of years while I was in Pramac Ducati. I'm happy to have achieved this goal because in order to obtain important results like I want to do, it is important to be a factory rider and race for a manufacturer."
Being a factory rider is more than just prestige. It's not just an inflated pay cheque, or the fact you can call yourself a factory rider, there's a lot more to it than that. As a factory rider for 2015, Iannone's aim to achieve the best results possible. Neither team budget, nor any other factors come into consideration. He is there, to win.
"For sure there are a lot of advantages as well as disadvantages. Above all, you have to try and obtain good results at all costs, because a factory team always races at the maximum level, whereas when you are in a private or non-official team, it's not so fundamental or vitally important. As a rider you try to be as quick as possible for a personal ambition, but it's different when you are obliged to get the results and the responsibility is different but I am happy with this."
As well as getting better equipment, there is added pressure too. There's a higher expectation to get results. That said, I asked how his winter training programme had gone, knowing he was coming into the biggest season of his career to date.
"I am very happy with how we have started this season, and how I have trained during the winter months. I feel in pretty good shape even though you can always improve. Also from the point of view of the team, the situation is quite positive: there's a good feeling with the bike, we're doing a good job and we're quite competitive."
His happiness at how the season has started is very much justified. Third fastest in the opening test of 2015 in Sepang, where he was just half a second off the pace of Marc Marquez on the GP14.3. Sepang II saw the introduction of his new bike, the GP15, and Iannone kept the distance to the top the same. In the final pre-season test in Qatar, Iannone ended third, less than two tenths off his teammate who was fastest, with Marc Marquez the meat in the Ducati sandwich. What will've buoyed Iannone and Ducati is that his fastest laps were posted on the harder compound tyre, the same tyre available to everybody else on the grid. So, does this mean the GP15 is the saviour of Ducati?
"It's not easy to say, but there are a lot of differences [between the GP14.3 and GP15]. The GP14.3 has different characteristics, but it's difficult to say because you have to become quite technical. The GP15 is a step forward in competitiveness and it's easier and nimbler to ride. You can go better in the corners and better in general."
When asked, what was needed to change the GP15 from an also ran, to a race-winning bike, he said: "We're working with this in mind, trying to get a bike that is constantly reliable and technically good. We're also working to have a good performance level from the start to the finish of the race. The work we're doing is in this direction and for the moment it's all quite positive."
So with this in mind, and the raw pace that the GP15 has demonstrated, what should Iannone be aiming for this season? Pole positions? Podiums? A race win?! Iannone wouldn't be drawn out on what he wants in term of a specific target, instead he will go into the season with a positive attitude, and continue loving what he does. "For sure I am always aiming for the top, you have to think positively. If you start with a modest aim, then it's difficult to arrive at the top levels. I have always raced to be amongst the best and I will continue to do so with this aim, I hope I can reach that objective."
No matter if you call him Crazy Joe, The Maniac, or just Andrea, Iannone is fast, he's a breath of fresh air, and his imminent success cannot be begrudged by anybody.
Photo via Ducati Course