Ducati unveil new GP15 in Borgo Panigale

Ducati have unveiled their 2015 bike, in Borgo Panigale, Italy this morning. 
Ducati riders Andrea Dovizioso and Andrea Iannone were on hand, along with management to help with the unveiling of the 2015 bike, as well as unveiling the new livery that will feature on the Ducati's of Dovizioso and Iannone all season long. The GP15 is the first bike fully designed by technical genius Gigi Dall'Igna, after the Italian joined Ducati from Aprilia at the end of 2013, in a bid to bring Ducati back to the head of the grid after the disastrous spell with Valentino Rossi. The GP15 follows the GP14, which saw three evolvements throughout 2014, with the most recent, GP14.3 model used during Ducati's successful first test in Malaysia at the beginning of this month.
Dall'Igna, whilst confident admitted that the main aim of the Italian factory is to claim their first victory since Casey Stoner won in Australia at the closing stages of 2010. He also calmed fears over fans that the second Sepang test – which starts on the 23rd of this month – was always the target for the new bike.
Upon unveiling the new bike, it is clear to see it has a much larger side, air-intake, as well as the new air intake there is a completely new chassis, and a totally new exhaust system. Argubaly, however, the biggest change is the new liquid-cooled engine. A 90 degree V4 Desmodromic motor, including the now imperative seamless transmission gearbox, in what must be one of the biggest revamps of the Desmosedici project since Valentino Rossi joined in 2011. 
Andrea Dovizioso said the bike is beautiful, and he cannot wait to ride it. He also said the biggest external difference is the bike is much narrower than the previous two Desmosedici's he has ridden. The wheelbase is also 5cm shorter, meaning it is a much smaller bike than the previous editions, as well as being thinner. Dovi did say, however, that the biggest differences are on the inside of the bike. 
Quite how successful the GP15 will be is still a question, although we will get an idea when it makes it's debut in Sepang next week.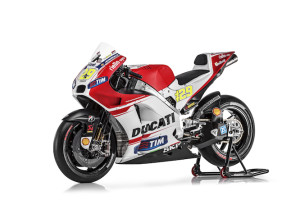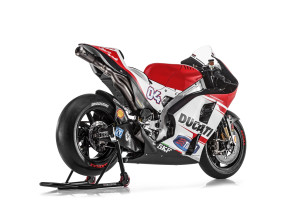 Photo credit Ducati Corse