Marquez and Pedrosa unveil 2015 Repsol Honda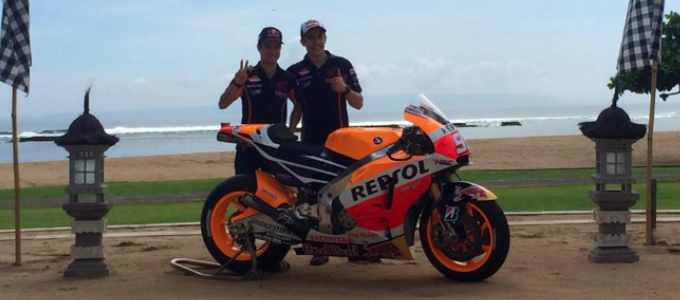 Reigning MotoGP constructor Champions Repsol Honda have unveiled the 2015 version of their RC213V machine days before the first official test of the season, in Bali.
The 2015 version of the Repsol Honda bike doesn't feature many differences, other than the Red Bull sponsorship along the belly pan, and on the front mud guard.
Marquez and Pedrosa were on hand in Bali. Bali is an Indonesian island, which is an extremely important market for all the big companies, so a bike launch in Indonesia will be very beneficial for the PR side of Honda. Fortunately, Bali is located just a few hours south of Malaysia, where the first pre-season test will get underway in just three days time. Marquez, is seeking his third consecutive MotoGP title, whilst team-mate Dani Pedrosa is still seeking his maiden premier class in his tenth season with the Repsol Honda team.
The Repsol Honda team have won three of the last four MotoGP rider titles, after previously going one title in the preceding seven years.
"It's been a long and busy Winter break and now I'm really looking forward to starting the season! It's great to be able to present our new bikes in Indonesia, together with our partner Astra Honda, it's such a beautiful backdrop," Marquez said during the launch.
"It's my first time here in Bali and it's wonderful to see all the fans here and feel their enthusiasm for MotoGP. Tomorrow we leave for Malaysia, I've trained a lot during last month to prepare myself for these first two tests in Sepang and I'm excited to be with my crew again and see how the new bike is working after Valencia test!"
Whilst team-mate Dani Pedrosa said he's had a good winter, and is ready to get going with his new bike.
"It's been really nice, and something different to have our Team Presentation here in Bali, so thanks to Astra Honda! It never stops to amaze me how passional the fans are for our sport in this part of the World," said the Spaniard.
"I've had a good Winter, with a mix of relaxation and training and now I'm ready and highly motivated to get back on the bike in Sepang in a few days!"
HRC Vice President Shuhei Nakamoto admitted he is excited to get back to Sepang next week, and start the pre-season.
"We are very grateful to Astra Honda for hosting our 2015 Team Presentation here on the beautiful Island of Bali and thank you to Repsol, Red Bull and all our partners and sponsors for their ongoing support in 2015 and beyond," he said.
"It's good to see Marc and Dani in a positive mood and relaxed after the Winter break and ready to get back on the bike next week in Sepang. We hope it will be a very productive test so we can start the season in Japan in the best way possible."
The Repsol Honda release is the second bike released this week, after the Movistar Yamaha team revealed their 2015 YZR-M1 on Wednesday.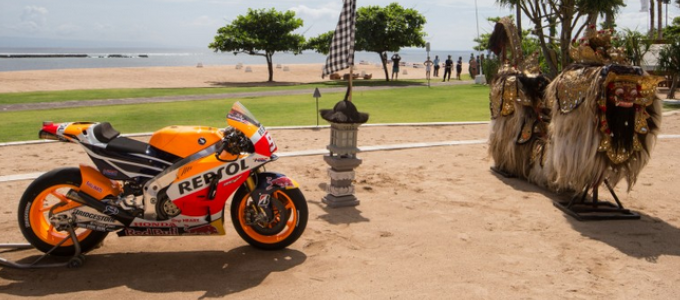 Photo via @14_HMartin & HRC