Valentino Rossi thinking of a tenth world title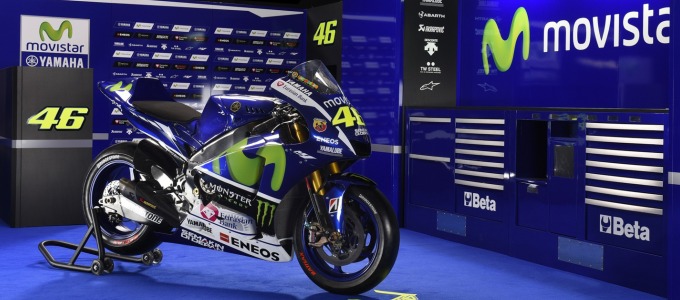 Nine-times World Champion Valentino Rossi has admitted that he is thinking of his tenth world title going into the 2015 season.
Rossi, who was on hand to unveil his 2015 Yamaha YZF-M1 in Madrid this morning, spoke about his ambitions to claim a tenth world title in 2015, but knows it will not be easy, with all competitors looking strong ahead of the first test next week.
"I will just be focused on delivering my best, on winning as many races as I can. So… yes, I am also thinking to my tenth title," admitted the 35-year-old.
"My first thought, however, goes to my M1. I want to ride it again as soon as possible!"
The Doctor, who is heading into his sixteenth season in the Grand Prix paddock also appreciates that all his hard, and good work, which lead him to second in last season's championship, all counts for nothing. He understands that all the hard work has to be done all over again, with his brand new M1.
"The 2014 season was very important to understand my level of competitiveness after so many years in the MotoGP World Championship. We did good races and eventually I ended up right behind Marquez in the overall standing, so I have every reason to be happy about my performances last year."
He continued, "that is past, anyway, and now I want more. I am fully focused on a good start of the new season and I want to be immediately competitive. My team worked extremely hard last year and there was a great atmosphere in the garage. Silvano is now in his second year with me and now he has all the information he needs to allow me to go even faster at every track. I too am feeling well so there are all conditions for an exciting season.
"I guess we will see the same four riders fighting for the championship. It's going to be a good fight."
With Rossi not getting his first taste of his 2015 'baby', he couldn't talk with any real detail about his new bike, but he did say he knew everybody in Japan had been working hard to close the gap to the Honda RC213V, which has won the last two MotoGP titles.
"I will ride the new bike for the first time in Sepang, so I can't say at this moment. I know everyone working on Yamaha's MotoGP project has worked very hard especially to make the bike better and faster.
"The test in Valencia last year gave us a lot of interesting information and I look forward to seeing if the direction we decided to take at that time will pay us back. I think in Sepang we'll have many things to test. I am really excited to ride the new bike! I can't wait for it!"
Going into 2015, the Italian is fully aware that the two-time reigning World Champion Marc Marquez is going to be the man to beat, but he also expects a stronger title challenge, not only from himself, but also from his team-mate Jorge Lorenzo.
"Last year Marquez started the season in a perfect way," said Rossi.
"On the contrary, both Jorge and I were not at our 100%. Silvano had just joined my team as Crew Chief and I had to understand a few things. Jorge too was not in a perfect shape. Both of us, however, ended the season on a high and I am sure both of us will start the new season with a great desire to win.
"We will have to do a good job during the tests."
Photo credit via Movistar Yamaha