Dominique Aegerter to test Kawasaki prototype; MotoGP return in 2016?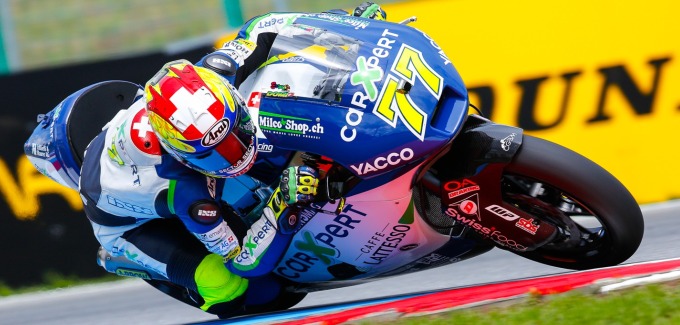 Moto2 rider Dominique Aegerter will test a Kawasaki MotoGP prototype machine in Jerez at the end of January, prompting rumours that Kawasaki are considering a return in 2016.
Aegerter was contacted directly, and invited by Kawasaki as the man to head the test, after becoming close with Kawasaki management after testing the Avintia-Kawasaki machine in the post race test in Barcelona last season.
The Swiss rider will test the new bike at Jerez on the 26th and 27th of January in Andalusia, and the new bike will be run with Magneti Marelli software and Michelin tyres, which will be mandatory to every MotoGP team from 2016, further prompting speculation that they are seriously contemplating a full time return for the first time since 2008.
"Yes, I will test with Kawasaki in Jerez on the 26th and 27th of January. My team has dealt with the issue, as they did with the Avintia test. I will ride a prototype, working with the Kawasaki test team," the 24-year-old told speedweek.com.
"The invitation for this test came directly from the factory. I met a few people at the test in Barcelona that are involved in the Kawasaki project. What I will test exactly, I don't know yet. The machine is however, equipped with Michelin tires, although not the ones which will be used in MotoGP in 2016.
"I already know what you need to have to ride a MotoGP bike. But I have not sat on a race engine since November, Now, I will get on a MotoGP bike, that's not so simple. But I am very excited!" Revealed the Swiss rider.
Despite all signs pointing to a return for Kawasaki, the news from the factory is clear and goes against the signs. Kawasaki Racing Director Ichiro Yoda has stated on several occasions that they are not planning a return to MotoGP, and IRTA president Hervé Poncharal also told speedweek.com, that "I have nothing heard of a Kawasaki return."
This was also what Dorna CEO Carmelo Ezpeleta said. "I'm sorry, we have not received information indicating a MotoGP entry of Kawasaki," explained Ezpeleta. If Kawasaki were planning a return for 2016, or even 2017, they would have to notify, and request a grid space. The application process can take time, and KTM have already notified Dorna of their MotoGP intentions for 2017.
Despite everybody from Kawasaki stating they have no intentions to return, you have to question how much longer Kawasaki would want to sit out, with Yamaha, Honda and Ducati joined by Suzuki and Aprilia for 2015, and with KTM joining in 2017, Kawasaki would be the only major player not participating in MotoGP.