Wayne Rainey: "We will see a different Lorenzo this year"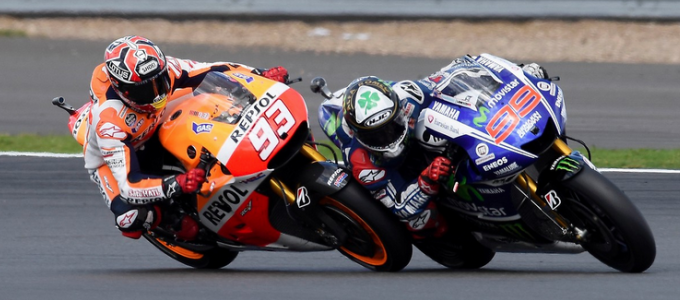 Three-time 500cc World Champion Wayne Rainey has said that we can expect a new Jorge Lorenzo for 2015, as he seeks to regain the MotoGP World Championship.
Rainey, who won three consecutive 50cc World titles spanning from 1990 till 1992 all on a Yamaha YZR500 is still a regular attender of races. Rainey is also president of Moto America, the promoters heading up the new AMA Road Racing Championship in America. 
In a feature interview with MotoGP.com, the Californian explained how Jorge Lorenzo's character and determination as a rider will see him return as the biggest challenger to Marquez in 2015. 
"In 2013 Jorge broke his collarbone and he still almost won the championship," he explained. "I think Jorge used a lot of energy then and finally he didn't win the championship. Maybe he thought 2014 would be easier, but as it was it didn't work out for him.
"The reality is in Jorge's mind that Marquez is here to stay. He is real, he is popular, he's brave and he loves to fight. But I also know that Lorenzo is the same guy. I know he can do this also. I'm not sure Jorge believed that last year, but my feeling is that he knows that this year he must focus on Marquez.
"I think we will see a different Lorenzo this year, I think he will be more consistent and his mind should be more ready for the battle. This comes with age."
As well as his opinions on Lorenzo, Rainey also spoke about the level of admiration he has for reigning MotoGP World Champion Marc Marquez, whilst admitting he wasn't surprised by the resurgence of a certain Italian former World Champion. 
"I think what's very clear for me about Marquez is that he looks like he has a lot of passion and he loves to race," said the 54-year-old. "He loves the fight and he wants the other racers to fight back. Because when you are racing and you are having a big battle with your competitors, if you win or lose you love that fight. This is why you do it, it is more than just winning the race.
"You work very hard and you think about trying to not make mistakes and where can I pass this rider, where can I go faster. You think about strategy and what your machine is telling you, you think about the guy trying to catch you or you are trying to catch someone. You have so many emotions and one of the very best emotions you can have is to cross the line in front of your competitor.
"This is what all the work you do during the week is preparing you for. When you walk through the paddock you always want to think that you are the best guy there and the only way you know this is from your result. Right now Marquez has the best results."
He continued, "I am not surprised about Valentino at this stage of his career. I remember the feeling of when I was 22 or 26 compared to when you are 31, or 32, or Valentino's age. The one thing that you have is experience, you know what is important and what is not so important.
"When you're young and your helmet is on you want to go fast all the time. When you are older, like a nice wine, you know where you need to go fast, where you must go fast and where it is not so important. I think Valentino understands that point."
Rainey was also asked about the fourth alien, Dani Pedrosa. Rainey explained that the diminutive Spaniard reminds him of Luca Cadalora, who, much like Pedrosa was successful on the smaller bikes, claiming 125cc and 250cc world titles, but couldn't win the ultimate prize in motorcycle racing.
Rainey said: "I think in the past, Dani can be very strong and then in some races he is not so strong. I think Dani's weak point has been his consistency overall in the championship. Where he must finish second he finishes fourth. He is being compared to Marquez and I think there is some gap there. But Dani now is getting older so I think he is running out of opportunities to try to beat this guy.
"Pedrosa reminds me a lot of Luca Cadalora. On a better day, a couple of days a year they were unbeatable. Then some days you would look and say, 'well you were so fast last week, but this week you were so much the other way.' This is that consistency thing. When the good guys have a bad day they finish second."
Photo Credit: Movistar Yamaha