Marc Marquez wins 2014 Superprestigio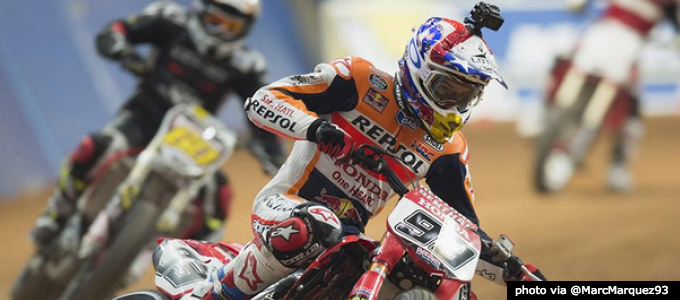 Marc Marquez capped off a sensational 2014 by avenging his January defeat, by winning the 2014 Superprestigio Dirt Track title in Barcelona.
After a season which saw him break almost every MotoGP record in the book, saw him end the calendar year in a familiar fashion, on the top step of the podium, ahead of AMA Flat Track champion Jared Mees and Kenny Noyes.
Marquez was in scintillating form, but the battle we all wanted to see, Marc Marquez against last years champion Brad 'the Bullet' Baker was taken from us after Baker was forced to withdraw from the event after a nasty qualifying crash. Baker's crash resulted in him dislocating his shoulder and being knocked out momentarily. 
Despite Baker being out, we did get to see a clash between the MotoGP and the AMA Flat track champions, as Jared Mees dominated the 'Open' category, as Marquez powered his way out of the 'Superprestigio' class.
Whilst we were going to be treated to a battle between the pair, it was nearly taken, much like the Marquez v Baker clash 11 months ago was. In the first corner, Supermoto World Champion Thomas Chareyre fell, and both Marquez and Mees had to take avoiding action to stay on two wheels.
The early drama allowed Kenny Noyes to pull an early lead, but he was always on borrowed time, especially once Marquez passed Gerard Bailo on the fourth lap. It took Marquez just a further three laps to catch and pass the 2014 CEV Superbike champion, with a firm move. The move forced Noyes wide, and Mees followed Marquez past his compatriot. 
Much to the delight of the Catalan crowd, Marquez managed to hold onto his slender lead to till the end, eventually crossing the line just 0.298 seconds ahead of the American. Noyes joined the duo on the podium.