Jack Miller makes MotoGP debut in Valencia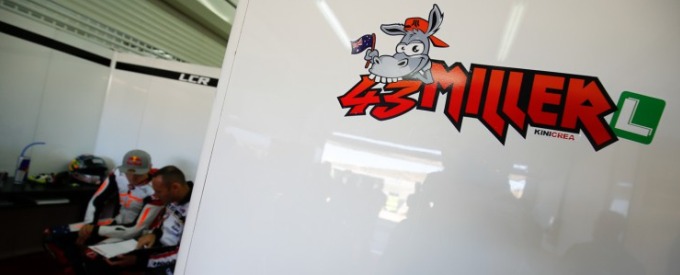 Moto3 runner up Jack Miller took to track today as he got his first experience as a MotoGP rider aboard his LCR Honda. 
The Australian, who less than 24 hours ago fell desperately short of claiming the Moto3 title put his disappointment to one side, and embarked on his new career as a MotoGP rider, amassing an impressive 61 laps. 
The 19-year old had arguably the most work ahead of him ahead of the first day of testing, making the jump from his 250cc KTM to a 1000cc Honda. He used his first day onboard a MotoGP bike with limited electronics, as his team wanted to help him get used to the extra power and learn throttle control. 
Miller, who signed a three year deal with HRC earlier in the year was understandably excited about making his debut in the MotoGP class.
"I was really excited. I didn't sleep a wink last night. I couldn't wait for 12pm to come round and as soon I got out I kept cutting laps and I did a lot of laps," said the eccentric Aussie.
"I wasn't trying for a lap time but I felt at one with the bike and got a good feeling off it. I got comfortable with it quickly and made some setting adjustments that we weren't planning on doing.
"I didn't get to try the harder option tyre on the front which would have been good because I seemed to be struggling with the softer one on the brakes. I'm squishing a bit too much on the brakes and hopefully the harder tyre will give us a little bit more stability. I wanted to try it this afternoon but the track temperature was going down and it was too much risk."
Going from a 60bhp KTM to a 260bhp Honda was going to be a step up for Miller, but when asked about the speed difference, he was more excited than scared of the challenge that lies ahead.
"I went out of the pits and in between turns one and two I was like 'shit that came up quickly'. Everything comes up so fast and it is so hard to describe.
"It is out of this world how quick the bike accelerates and with no wheelie control you are coming out of a corner and burying the rear brake trying to keep the front down. Then you click fourth and it wheelies and the same in fifth and you are doing 300kph. It is mental.
"The speed was a shock at first. But after two or three exits you get used to it but nothing can prepare you for the carbon brakes. It is an incredible feeling and all they want to do is tear the bike out from underneath you. It is an amazing bike to ride and I've had the best day of my life."
Miller was been riding the 2014 customer Honda, the same bike as what Scott Redding and Nicky Hayden rode this weekend in Valencia. He will have to wait until the later this month when HRC have a private test in Sepang, to get his hands on the 2015 edition.