Asaymmetric front Bridgestone to return in Valencia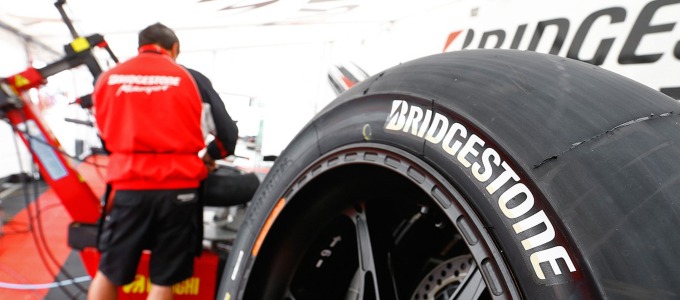 Despite being blamed for crashes in Phillip Island, Bridgestone will give their new asymmetric front tyre another run out for this weekend Valencia Grand Prix. 
The asymmetric front tyre was responsible for crashes to Marc Marquez, Cal Crutchlow and Pol Espargaro during the Australian Grand Prix at Phillip Island, as well as crashes earlier in the weekend for Jorge Lorenzo and Andrea Dovizioso. The actual design of the tyre wasn't the problem according to Bridgestone. Instead the issues were bought about as the compound of the rubber being used was too hard for the cool, windy conditions that was experienced in Australia. 
As well as having warmer, better conditions expected this weekend than in Phillip Island, they will also bring a softer compound asymmetric tyre, mixing the soft and super soft tyre. 
"This weekend marks the second time we are offering an asymmetric front slick option and given the unbalanced layout of the Valencia circuit, I expect this option to perform well this weekend," explained Bridgestone's Shinji Aoki.
Bridgestone will use this weekend's race, and the subsequent test to research and development ahead of the 2015 season, which will be their final season as MotoGP's sole tyre supplier before Michellin take over in 2016. 
"The final race of the 2014 season takes place at Valencia and given the exciting races at this venue in the past few years, expectations are high that we will see another thrilling season finale this year," said Bridgestone Motorsport manager Hiroshi Yamada.
"With Marc wanting to take the record for most premier-class wins in a season, Dani's peerless record at Valencia and the fight for second place in the championship between Valentino and Jorge still wide open, there is a lot at stake this weekend.
"As soon as the curtain falls on the 2014 season, our preparations for 2015 will start the very next day as we will be supporting all the teams in the Valencia MotoGP test starting on Monday.
"The data we acquire at this test is very important as it gives us an indication of the performance characteristics of next year's MotoGP machinery which will help steer our development for next year's range of race tyres."