Alex Marquez: I want to think the race first, then the championship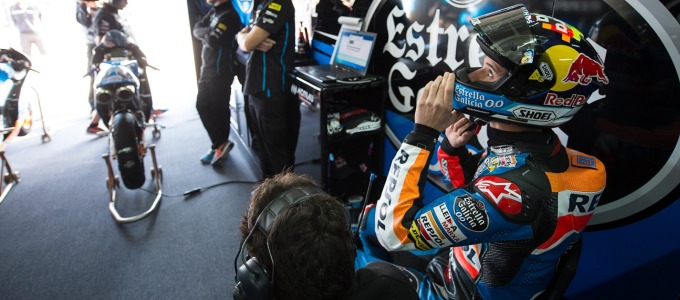 Alex Marquez can win the Moto3 title this weekend. If he wins the Malaysian Grand Prix, regardless of wherever Jack Miller finishes, he will be the 2014 Moto3 World Champion. 
Despite standing on the edge of his first world title, the young brother of MotoGP World Champion, Marc Marquez, insists he is concentrating on the race before the championship.
Speaking to Marca.com, Marquez said he was confident, especially with the long straights favouring his Honda over his competitors KTM. 
"I think the Sepang circuit is very favourable to us, and last year we saw the Honda FTR going well there, thanks to its chassis," said the 18 year-old.
"In this next race we have our first match, but I'm thinking about the race rather than the championship. I know that on Sunday we have the opportunity to be champions, but I don't want to obsess with it.I just want to work as I have been doing in recent races and try to stay ahead of Jack Miller and Alex Rins."
He continued, "the whole Estrella Galicia 0.0 Team will try to work as we have been doing all season: giving everything from the first day, being very focused and trying to do my best in every workout."
Despite sitting with a 20 point lead over his nearest competitor, Valentino Rossi used today's pre-race press conference to say that if Marquez stays out of trouble, he should be OK.
"For Alex it is more difficult because he has less advantage but it is still a good advantage," explained the 1997 125cc World Champion. "So he can calculate. In Moto3 always, especially in the last races, the battle is always very hard, with a lot of riders in the first group. So he has to try to stay out of problems, try to stay in front and try to gain some points on Jack."
Whilst elder brother to Alex, Marc, said that Alex just needs to relax and do the same as he has been doing all along, if he does that, then he should get the result he needs.
"In Moto3 the advice is that you must always do the same. It's easy to say, but you must push like in every race. Because the problem is that if you try to relax or you try to calculate, you can finish fifth, sixth or seventh, as there are always six riders fighting for the victory," explained the 2010 125cc World Champion.
"You need to be aggressive and you need to push. The perfect thing would be for him to finish in front of Miller, but if Miller finishes in front of him it's not the end of the world. The advantage that he has is that Miller, in this case, cannot make any mistake. The pressure is on Miller to finish in front or to win the race if he wants to win the championship."
If Alex Marquez wins the race, out scores Jack Miller by 6 points, or finishes ahead of Jack Miller, whilst finishing in the top ten, then he will be crowned Moto3 World Champion this Sunday in Sepang.