Pedrosa and Crutchlow critical of Iannone's riding style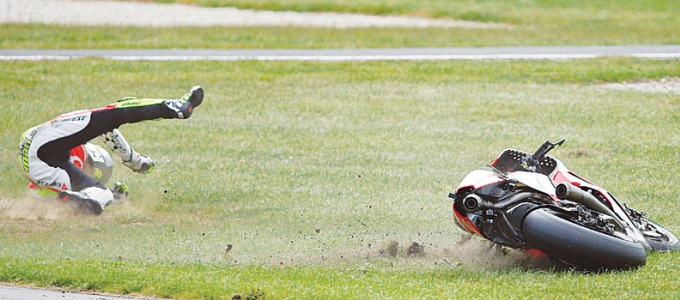 One common criticism against MotoGP riders now is that they are too friendly together, and when riders go in, and shake things up a bit, they usually win a fan or two. So despite crashing out of a race he could've finished on the podium in, Andrea Iannone's actions in upsetting riders this weekend, will've undoubtedly earned him some new fans.
Iannone took Dani Pedrosa out of Sunday's crash with a rash move, which also ended his race, and left him with a very sore left hip. Inspite of Sunday, Iannone has impressed this season, especially in qualifying. But Pedrosa feels Iannone needs to use his brain more when it comes to race day in order to show just how good he is.
"I wasn't surprised when I saw that it was him who had touched me, it's not the first time that he's pulled such a stunt," explained an irate Dani Pedrosa to GPone.com, who endured a thoroughly miserable weekend in Australia.
"I'd already seen him touch Crutchlow in the first corner. He was wrong once with Cal and again with me. A mistake is understandable, but it is not acceptable to continue in this way. Luckily I didn't fall, but I broke the wheel in contact. Iannone has to learn, it is not possible to ride like this in MotoGP."
Pedrosa wasn't the only rider to have an issue with how Iannone was riding, Cal Crutchlow, the man Iannone will be replacing in the factory Ducati team next season. Whilst Cal wasn't as forthcoming with his criticism, he still think's Iannone needs to just calm down on the track.
"[He] should calm down, he tried to break his leg in the first corner and then he almost did it with Pedrosa," said Crutchlow who crashed out of second place in the Australian Grand Prix.
Iannone admits he was at fault for the collision with Pedrosa, although he wasn't too sure why Crutchlow was unhappy with him.
"I don't know what happened to Cal, he was practically stopped in the middle corner, in fact I had to brake to avoid him!" explained Crazy Joe.
"As for Dani, I understand that he is angry, and I am very sorry. Unfortunately, I missed first gear, and I know these are things that shouldn't happen, but it can happen in the race. I feel sorry for him but I never meant to the ground a rider in my whole career."
As well as getting a verbal bashing from Pedrosa, Race Direction have said they want to meet both Iannone and Pedrosa ahead of the next round in Malaysia. Stefan Bradl, who was involved in a very similar incident to Iannone, but with Aleix Espargaro, has already been given one penalty point for his crash.