Jarvis thinks the Yamaha is as good as the Honda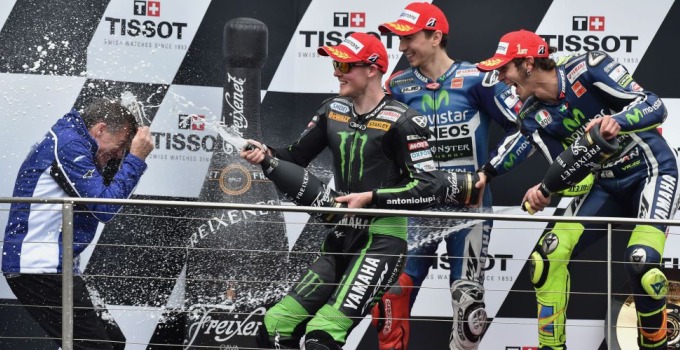 Yamaha Motor Racing Managing Director Lin Jarvis, believes the Yamaha M1 is as good a bike as the MotoGP Championship winning Honda RC213V. 
This past weekend saw Yamaha claim their first clean sweep of the podium in six years. It was a momentous day for Yamaha, so much so that Jarvis went up himself to collect the constructers award on the podium himself in Australia, a treat he usually allows other members of the team to go and do.
Yamaha have the won the last four races, with two each for Rossi and Lorenzo, and it has prompted talk that Honda have shifted attention either to their Moto3 project or to next seasons MotoGP bike. Either way, Yamaha have undoubtedly closed the gap, and Jarvis now believes the gap is non-existent between the two bikes. 
"I think we're very, very close. Our gearbox has improved, but we have also greatly improved in braking," Jarvis told Spanish newspaper AS.com.
"Engine braking has improved significantly. We have improved in many small details. We basically kept the strengths we had, and we've improved where we were weaker compared to Honda."
Whilst Jarvis believes this is the case, Valentino Rossi and Jorge Lorenzo have both been critical of their M1 this season, both wanting the seamless downshift in their gearbox, something that would improve the bike under breaking. 
"We start at Yamaha to work on the seamless gearbox just last year, so from that point of view we are in a bit of a delay compared with Honda. But already our gearbox works very well and I think all the engineers are working to have the next generation as soon as possible," said Rossi in Japan.
Jarvis also used this interview to talk about Valentino Rossi. This season has seen Rossi rejuvenated, and after Sunday's win he is now in the box seat to claim second place in this seasons MotoGP championship. Jarvis has been impressed by Rossi's hunger to win at 35 and his desire to continue racing.
"On Saturday morning I was watching the practice on the straight, and I remembered when we were here and we won our first championship together in 2004. I saw him down the same line again, at full throttle, in the blue and yellow colours, and thought: 'This is incredible! It's been ten years and still doing the same things.'
His hunger is amazing. I think the enthusiasm for the sport has kept him young and that's fantastic. And the clearest proof are all the fans who celebrated the victory with him, everyone loves him."