Smith didn't realise he had claimed maiden podium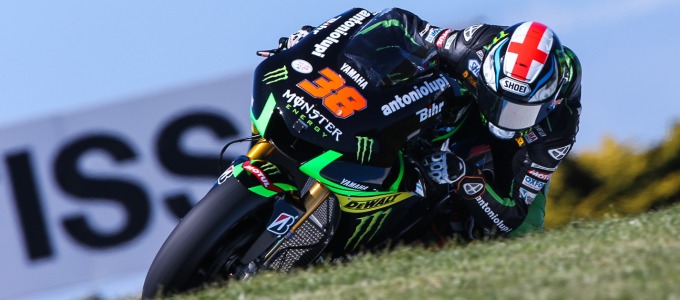 Brit Bradley Smith didn't know he had claimed his maiden MotoGP podium until he got round the first corner and counted only two riders ahead of him.
Smith got a great leap off the line, but he would eventually drop into a race long battle behind the front runners. With crashes to Stefan Bradl and Aleix Espargaro, and Pol Espargaro and Cal Crutchlow going down on their own in front of Smith, it elevated the Tech3 rider into a net third position.
Smith managed to keep his M1 upright, and was ultimately rewarded with his first podium. Although he didn't realise as he crossed the line he had done it. 
Smith didn't see Crutchlow's crash on the final lap, not knowing he was sat in a podium position. When he crossed the line he looked, and thought the big screen which said he finished in third was wrong!
"I did a really good start and tried to push at the beginning but I was far too aggressive and had lots of big moments," said the 23 year-old. "I nearly crashed three or four times in the opening two laps, so I had to take it down a peg or two. Then I ended up in that battle, which I think had five or six of us in.
"It felt like a 125/Moto3 race, every time passing each other," he explained. "I was lucky I spotted Stefan out of the corner of my eye because I could see he was coming in really fast and ended up hitting Aleix and nearly collected myself and Andrea.
"I then had to focus on catching and passing Pol, but he went down in front of me and I think Cal on the last lap, but I didn't see that so I didn't know what position I was when I finished.
"I came across the line and I saw 'third and Smith' and I thought something was wrong with that screen! Then I saw Valentino and Jorge there and I thought I am the only other one here, so at the next corner I really saw and I started making a weird noise inside my helmet!
"It hasn't sunk in fully. I suppose you always dream about the first podium and how it would feel, but it just blew me away the amount of fans who came out on the home straight. I am normally in my garage listening to the Spanish or Italian national anthems so to be up there and be part of that celebration with Yamaha, that is very cool."