Pedrosa falls during PR event in Melbourne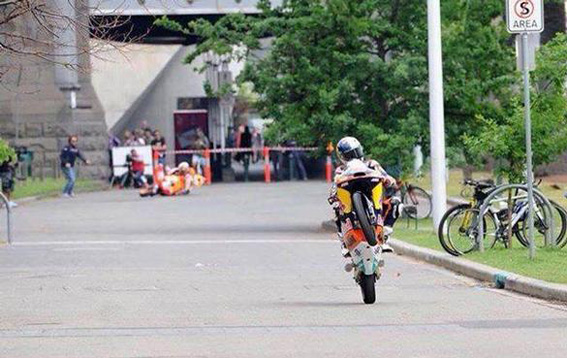 Dani Pedrosa may be the unluckiest rider in MotoGP. Not only has he had arguably multiple MotoGP title taken from him by untimely injuries, he has also had to share a garage with the likes of Casey Stoner and Marc Marquez. But he has now had the misfortune of dropping his bike whilst doing a PR event ahead of this weekends Australian Grand Prix.
The Spaniard was taking part in a promotional event, riding his RC213V along the banks of the river Yarra with local rider Jack Miller. When he got to the end of the strip, he was performing a U-Turn, and thats when he dropped his RC213V. The cold, wet tarmac from the night before was enough to make Pedrosa drop his bike. You can see HRC press officer rushing to the aid of the stricken Spaniard.
Rumours initially emerged on social media that he had fallen off the bike whilst doing a wheelie, or that he had slipped off whilst doing the stunt on slick tyres. Both were proved wrong.
"It was great to have the chance to be here in Melbourne and ride alongside the Yarra River," said Pedrosa after the event, with a smile on his face.
"The hardest part was getting the bike to actually stand up straight, as we obviously couldn't ride at the kind of speed you see at Phillip Island! Riding in the city was a special way to arrive in Australia."
Alex Hofmann suffered the same fate back in Portugal in 2005, fortunately Pedrosa has escaped any injury. The German wasn't so lucky. Hofmann offered some support to Pedrosa on twitter this morning.
Thanks @26_DaniPedrosa for joining this very special privileged club ! Moto GP bikes are not supposed to ride on normal roads ha ha …

— Alex Hofmann (@Alex_66) October 15, 2014