Yamaha won't have seamless downshift this season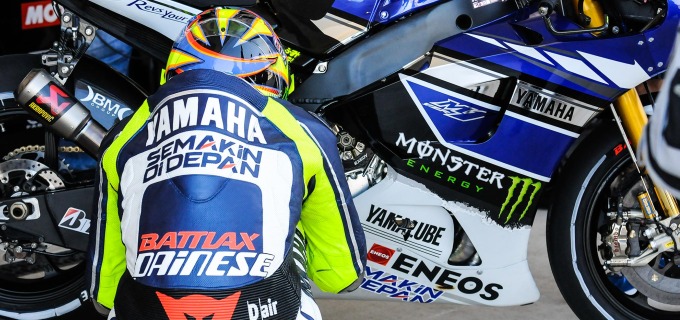 Valentino Rossi has confirmed that Yamaha won't have a seamless downshift on their M1 gearbox before the end of this season.
Seamless gearboxes have become a popular and now essential part of a bikes make up in recent seasons. Honda were the first to implement one, when their 2011 RC212V had a seamless upshift in their gearbox. It was the only one on the grid to have one at the time, and it helped guide Casey Stoner to his second MotoGP World Championship.
Ducati, and eventually Yamaha followed suit and developed and implemented their own versions of the seamless upshift gearbox, which not only made the transition in changing up gears quicker and smoother, but it also keeps the bike stable during upshift and helps on acceleration with minimal time spent not on full gas.
Honda, then upper the bar again, by developing a seamless gearbox that also works going the other way, down the gearbox. Ducati are understood to have now got one on their Desmosedici GP14.2 but Yamaha are still only working with the upshift.
Both Valentino Rossi and Jorge Lorenzo have pushed for Yamaha to develop the downshift too, in order to help the bikes performance on braking and corner entry, helping keep the bike stable and increase corner speed on entry.
Rossi was asked about the progressions Yamaha are making on it, and when he thinks he and Lorenzo may get the benefit of a seamless box that works both ways.
"It is one of the main projects and issues that Yamaha are working on," Rossi said at during the pre-Motegi press conference.
"Sincerely we don't know when we try, but we hope as soon as possible because we think it can help us in braking.
"We start at Yamaha to work on the seamless gearbox just last year, so from that point of view we are in a bit of a delay compared with Honda. But already our gearbox works very well and I think all the engineers are working to have the next generation as soon as possible."
When quizzed specifically about when he can expect the upgrade, the Italian said: "For me this season no; but I hope next season."
Rossi also confirmed during the press conference that he has a broken finger on his right hand. He said it shouldn't be too much of an issue in Motegi, with painkillers maybe required. He says he's ridden a road bike and the only time he feels significant pain in it, is when he's braking.
"Unfortunately it is broken, I broke off a small piece of bone to the last phalanx. I did see a specialist, Dr. Soragni, and he told me that there is no need to do the surgery."