Lorenzo hopes stays with Yamaha for his whole career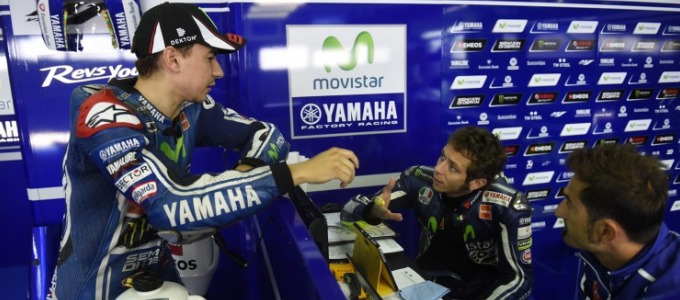 Two-time MotoGP World Champion Jorge Lorenzo has said he wants to spend the rest of his career with Yamaha.
The Mallorcan recently signed a new one year contract, with the option of an extension for 2016 should he wish to, but it now appears Lorenzo is ready to commit himself to the Japanese brand for the remained of his career.
No world champion since Mick Doohan has gone his whole career on one manufacturer, and no more than six months ago, Lorenzo didn't look like he would be hanging around with Yamaha for much beyond 2014. Very vocal discontent through the early stages of the season, made it look like Lorenzo would not resign a deal with Yamaha, with negotiations taking place with both Honda and Ducati.
Lorenzo did eventually come an agreement with Yamaha, but insisting it was only a one year deal.
However, with all factory seats at Ducati, Honda and Suzuki now tied up for the next two seasons, Lorenzo looks like he will have to exercise his option of a second year, extending his stay with Yamaha into a ninth season.
Speaking to Sky Italia via Corriere Dello Sport, Lorenzo explained how he wants to stay with Yamaha, despite acknowledging he is curious to ride other bikes, to see what they are like more than anything else.
"I hope to stay in this team because it would be nice to say I've never changed team in MotoGP, few riders can say it," Lorenzo told Sky's "The Lords of MotoGP" programme which will air this evening on Sky Sports HD MotoGP.
"I think it is normal for any rider to have the curiosity to try other bikes, especially if they are faster or more competitive. But in life, I believe a lot in confidence and when people show confidence in you, even in difficult times, you have to repay their faith. I had the chance to change bikes in both 2009 and 2012, but ultimately decided to stay, because of the faith I had in myself, because of the financial offer and because of a very competitive bike, which is the most important thing, because we're here to win, both Yamaha and I."
Lorenzo also talked about his relationship with teammate Valentino Rossi. The pair have obviously had very vocal differences, with the height of the rivalry, when Rossi insisted a wall be put inside the Yamaha garage to separate the two riders within the team. In spite of that
"I've always thought we are here to achieve results and to win. It's not a popularity contest. I don't think we have time for social life and for making friends in the paddock. We are in the paddock to win, to try to improve in order to win. But it is also important to treat your teammates and the riders who have the same bike as you well, so that you have a good relationship and open dialogue in order to allow you to grow and improve," said the 27-year old. "Also, that sometimes means you can compare your feelings with your teammate's. I think Vale and I make a great team, not just because of our talent and how we perform on the track, but also because of our experience, which helps us to give feedback to Yamaha to make a better bike."
He was asked about the opponents he has faced during his time in MotoGP. He acknowledged the difficulties given to him by Pedrosa and Stoner, but said Rossi and Marquez are the toughest he's faced in his time in MotoGP.
"All four are very strong, but certainly the most difficult to overcome are Marquez and Vale because they never accept defeat and always try to win every race, even if they are not well positioned or the track is not their favourite," he commented. "With Pedrosa and Stoner, who are both extremely fast, if they have problems during the weekend or during the race, they prefer to be second or third and get the points. While Marquez and Vale are very good when it comes to improving, never giving up and always trying to win the race. They are all different, but in a race, when you fight one on one, the most difficult to beat are always Vale and Marc."
He still has the motivation and the will to win. He is proud of how he defended his titles in 2011 and 2013, and despite not claiming back to back titles yet, he is still motivated to improve.
"I can't say I have a bad memory about that, because being the runner-up is an important achievement in MotoGP. But obviously if you win a title and then a second, you want to win the third. But if you don't win it, it's not a big drama, certainly not as much of a drama. I think the season we had after two crashes and two injuries, braking the collarbone, being able to win eight races and getting only four points less than Marc was amazing. The points are what counts to win the title but equally important is how you ride, how you fight and having nothing to regret."