Marquez and Rossi discuss the day at the Ranch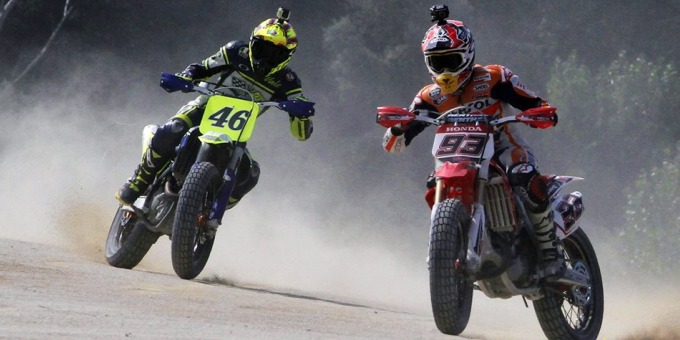 Reigning World Champion, Marc Marquez and winner last time out Valentino Rossi took the Doctors ranch after the race in Misano, and today the duo discussed their race in Tavullia.
The World Champion ended any chance he had of winning his second world title when he fell in Misano, but despite that set-back Marquez wasn't going to let him turn down a great opportunity like this. So his HRC team specially prepared him a bike for a day at the now infamous Rossi Ranch.
"We enjoyed it a lot because we have a lot of riders, also from superbike. A lot of bikes on track and it was a good day," said the Doctor.
"Marc was very fast. Already as fast as me from the first time. As always! I think he did the best lap time, but I won the race. So it was 1:1!"
When asked if it would've happened a few years ago, Rossi wasn't so sure, claiming the sport has changed now, citing a special relationship between a lot of the riders from across the classes and paddocks.
"I do not know,I have changed a bit, and so have my opponents. There is a great deal of respect among us off the track. I'm proud of the Ranch, I enjoyed seeing so many riders all together. There were Smith, Davies, Camier, Rabat, should have also Pedrosa, but that didn't happen, there will be other opportunities. It was an afternoon with friends, but with twenty of the best riders in the world, on the track."
"It was really nice," added Marquez. "I was really impressed to see his circuit and his home because in the future I would like to have something like that. Like Valentino said we were fighting together like in the Misano race more-or-less! The important thing is that we enjoyed it and it was really nice to ride with him and the other riders."
Check out a video Valentino released from the day.