Melandri may yet still end up in MotoGP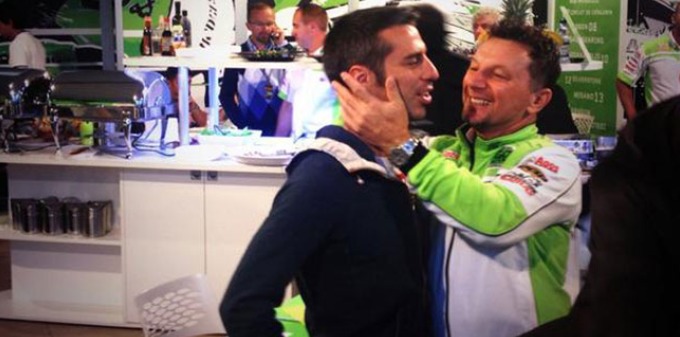 Despite seemingly ruling himself out of the vacant Gresini Aprilia seat for next season, Marco Melandri may yet still end up on the Aprilia next season in MotoGP.
Aprilia announced in Misano that they would be officially returning to MotoGP with the Gresini team. Alvaro Bautista has been re-signed up for a further two seasons with Greisni but as of yet nobody has signed up to partner the Spaniard.
It was clear from the start that both Gresini and Aprilia wanted Melandri with Gresini in MotoGP this season, however the Italian was reluctant to move to MotoGP. He was thought to want to stay in Superbikes for a multitude of different reasons, but mainly cited the lack of competitive machinery and the money he is receiving from Aprilia in superbikes.
But now, GPone.com are reporting that Melandri may still end up in MotoGP despite being adamant that he wouldn't be making the switch back to Grand Prix's.
One of the reasons being cited is down to Melandri's contract. Melandri has a one year contract, and will get the option of a second year handed to him should he finish third or above. He is currently fourth place, eighteen points behind third place Baz, with two rounds and four races to go. If he doesn't get the third place he would not have a contracted, guaranteed ride next season.
The second reason is more due to Aprilia's desire to place him in MotoGP. If Aprilia cannot find a title sponsor for their superbike team there is potential that their Superbike effort could tail away due to limited resourced running two racing projects. Aprilia will be investing serious time and money into their new MotoGP project, and this will severely limit resources in SBK and there are concerns they won't be able to adapt their RSV4 for future regulation changes.
This alone has prompted his team mate Sylvain Guintolli to already decide he doesn't want to be with Aprilia for the long haul and be on the verge of signing for the Ten Kate Honda team.
Aprilia wants this solved within the next week so they don't leave themselves short in either paddock, as they could possibly be on the hunt for two Superbike riders.