Tech3 deny Alex Rins approach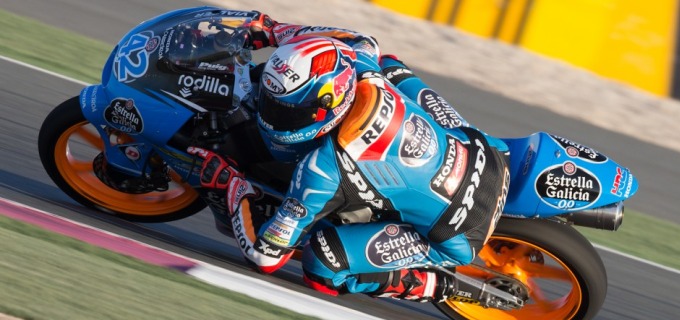 Tech 3 team principal Herve Poncharal has dismissed reports that he offered Moto3 star Alex Rins a contract in his MotoGP team for 2015.
Reports claimed that the Frenchman had offered Rins Bradley Smith's seat in the Yamaha satellite squad, with factory backing on a YZR-M1 after Poncharal was turned down by Jonas Folger. With Rins also turning Tech3 down, Poncharal offered Smith a one year contract renewal. 
Rins instead has chosen to replace MotoGP bound Maverick Viñales in the Rins Moto2 squad, joining Luis Salom in the intermediate class. 
However, the IRTA president and Tech 3 supremo has denied offering Rins a contract for 2015, saying he never submitted an formal proposal to Rins.
"I have always been a big fan of Alex Rins. I like him as a rider and as a person off the track. But I didn't really understand what he has been saying about talks with Yamaha," Poncharal told MotorCycle News.
He did however, admit there had been talks between the two.
"I simply asked him if he would like to come to us in Moto2 and he said yes, but he wanted a Kalex frame and the answer was obviously no, as we will remain with our own chassis.
"After Assen and Sachsenring and I made a list of a few names about 2015 for MotoGP. One of them was Jack (Miller) and Bradley was obviously on the list and one of the names was Alex. I rang him and asked him what he thought if he would be offered a MotoGP deal for next year and would he take it? That was me asking and not Yamaha and it was never Yamaha. It was Herve Poncharal and Tech 3 and the answer was no, which I understand.
"Then I read in the Spanish media in Brno that Alex thought it was crazy to move and he would never make the jump. It said Yamaha contacted him and as I said, Lin Jarvis never contacted Alex. I did it through his father and I never made him an offer. It was just asking about what he thought and maybe he would never have been made an official offer.
"I think he has tried to use that to have the media talking about him. I can't let anybody say that Yamaha contacted him directly because he was never offered a MotoGP deal."