Jonathan Rea on a production Honda next year?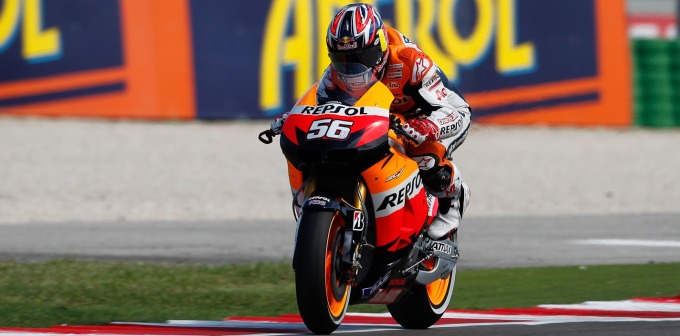 Could Jonathan Rea be be finally about to get his MotoGP chance with Honda, albeit on a production bike for 2015?
The Northern Irishman could face decision of making the jump to MotoGP with the production Honda, or facing the rest of his career in the World Superbike series.
Rea has been on a Honda for the whole of his career, but now at 27, and with a prototype ride looking out of reach for next season, with Bradl comfortable at LCR and Bautista finding some form after his horror start to the season, it looks like the Brit will have decide if he wants to try the prototype Honda. It looks like for Rea now, that if he wants to have any chance of making a production ride his own, he will have to beat the likes of Hayden, Aoyama and Redding on the same equipment.
Honda manager Carlo Fiorani spoke to German website Speedweek about Rea, and what options he faces next season.
"The first talks about MotoGP with Johnny started a few months ago," said Fiorani. "He wants MotoGP ride – for a good team and with a prototype. We support him, he grew up with Honda. If he succeeds in MotoGP, it is our success.
"We know that it will be virtually impossible to get a prototype, nevertheless we would like to see him on a Honda. I hope he makes come round to the idea of a Production Honda to ride."
Rea has however battled for championships and race wins his whole career, so the idea of now battling for tenth place is understandably less appealing. With World Superbikes having new rules and regulations for next season, and the possibility of a new, more competitive bike too.
"With the new rules next year the World Superbike Championship could be interesting for Johnny," admits the Italians. "To win a championship with new regulations, is always appealing. Ultimately it's his decision."
At the moment the Production Honda doesn't appeal to anybody. Hayden has been critical and even HRC have been surprised at how far off the pace the bike has been. Due to this, HRC have been working feverishly to rectify this, and assert more Honda dominance. The plan for HRC is to build a new 'Super Honda' in order to match some of the power being produced by the Forward M1's. The new bike would have a pneumatic valved engine, without the seamless shift gearbox. There has even been rumours that HRC have accelerated the development process, and could even have the bike ready from the Aragon Grand Prix in September.
Fiorani is aware there is a lack of appeal on the current bike, but he also believes that there will be change from next season, with more experience under their belt: "This is the first year with these bikes. With our experience, this bike will be better next year. There will be a revolution."
As much as he and Honda want Rea in MotoGP, he does understand why it's not a forgone conclusion that the Northern Irishman will decide to change paddocks.
"In the World Superbike Championship is Rea co-star. In MotoGP he would only be seen in a supporting role. If he really wants to go to MotoGP, we will not stop him. Then we'll just find another good rider for the Superbike Team."