Scott Redding signs for Marc VDS Honda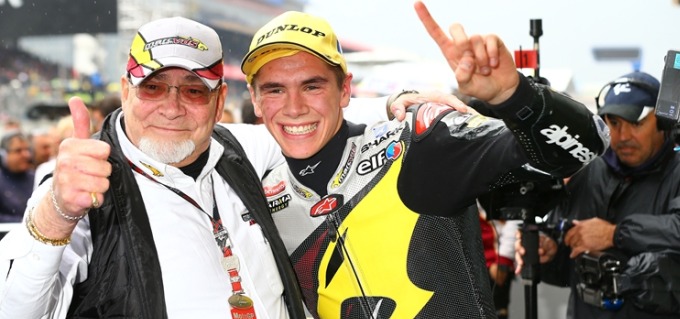 Scott Redding will get his factory Honda, as he return to Marc VDS, with the Belgian team finally moving up to MotoGP.
Redding's future has been covered in doubt in recent weeks, after news broke that the Gresini team wouldn't be renewing their contract with Honda, and would instead be running the Aprilia team's return. With Redding promised a factory Honda should certain results be achieved on this season production Honda it seemed the Brit was going to be very hardly treated.
However, step up Marc VDS. The Belgian outfit see Redding as one of their own, and with Marc VDS team and Scott Redding's personal Michael Bartholemy being one of the strong links between Redding as his former team, his factory Honda dream has been saved. The Marc VDS will take the factory Honda that will be vacated by Gresini and Alvaro Bautista next season. 
Redding's contract with Marc VDS is a three year deal, and you would assume that Marc VDS have promised Redding a full factory bike for all three years. The three year contract is thought to be drafted up, allowing the Marc VDS to repay over a longer period, showing the level of commitment from HRC. 
Marc VDS beleived they had the funds together two weeks ago in Silverstone. However, they were told by IRTA last minute that as they are entering as a new team, and not taking over an existing team that they wouldn't have allocations made for their tires and freight, and wouldn't receive any subsidiary money from IRTA for travel. However a title sponsor has helped them not only find the funds to help lease the RC213V, but also for the extra 1.7€ million for off the track expenses.
It is expected that Redding's Marc VDS bike will be using the Ohlins and Brembo combination, not the current Showa and Nissan suspension and brakes set up that Alvaro Bautista's Gresini has been using this season. It isn't clear what kind of package they will receive from Honda, but it will undoubtedly be faster than his bike this season.
There isn't any word on whether it will be just Redding in the Marc VDS MotoGP team, or if they will also run a "production" machine next season. The Marc VDS team already has Tito Rabat and Alex Marquez signed for 2015 in Moto2. 
The always reliable David Emmett said that the hold on a official press release is due to some final creases to be ironed out regarding Redding's Gresini contract. 
Marc VDS will move to MotoGP in 2015, with Scott Redding returning to the Marc VDS Racing family. We look forward to welcoming him back!

— Marc VDS Racing Team (@marcvdsracing) September 14, 2014