Marc VDS to move up to MotoGP with Honda?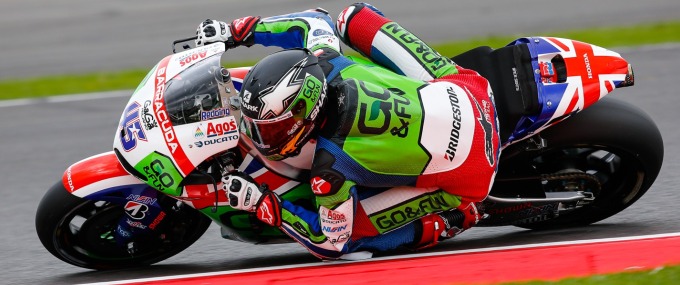 After years of flirting with the idea of upscaling their project into the premier class of motorcycle racing, could Belgian outfit, Marc VDS, be finally ready to make the move up, leasing a Honda RC213V for Scott Redding?
Official rules say that in MotoGP, no manufacture can race with more than four factory machines. The Repsol Honda squad has two, LCR the third and Gresini the fourth. However, the Gresini squad are having major funding issues ahead of the 2015 submission date, and look set to vacate their much coveted RC213V. With a factory Honda becoming available, Marc VDS see this as a chance too good to miss.
As well as now having a bike, the Marc VDS team wouldn't have any problem at all in getting a rider, with Scott Redding ready to jump at the chance. Redding has a two year deal with HRC, and signed for the Gresini team on the understanding that he would be given a ride on a factory machine for 2015. Unfortunately for him, the unforeseen financial problems for Gresini, has left the young Brit in a tricky situation.
Redding of course rode for the Marc VDS team for his four years in the Moto2 class, helping him to a second place finish in the 2013 Moto2 World Championship, and Redding has maintained a very close relationship with many of the team, especially Marc VDS team principal, Michael Bartholemy, who also happens to be Scott Redding's personal manager. 
Gresini had until this weekend to find the funds for Honda, but it now appears with the main sponsor, GO&FUN, withdrawing that they will instead become the team which Aprilia choose to return to MotoGP with. Due to Gresini not renewing with HRC, Marc VDS have been given two weeks, until the San Marinese Grand Prix, to find the funds themselves to lease not only the RC213V, but also to start a 'new' team from scratch for 2015.
"I'm always optimistic… It is in our hands," Bartholemy told crash.net. 
"The [RC213V] costs the same for me as for other people. For me it is not important what the bike costs, the important thing is the amount that we are [currently] short. This is the biggest thing at the moment."
When Bartholemy was asked about if Redding would be the man to end up on the Marc VDS RC213V, Bartholemy would do everything but confirm that Redding is the man they would have on their bike.
"You can tell the British public that we need some help to put the best British rider on a Factory bike," he said. "Even Marc [Marquez] has said, 'the only British guy who can do something is Scott Redding. He beat me in Moto2'."
Thankfully for Redding, team owner Marc Van Der Straten is happy for the expansion to happen, and wants to support Redding as much as he can.
"I flew down to the Cote d'Azur to talk about the project with Marc, I made a budget and I got a positive answer from Marc because he wants to support Scott as he is still a little bit the team's baby," Bartholemy told Bike Sport News.
Quite what the Marc VDS MotoGP project entails isn't clear yet. Tito Rabat has signed a new deal to race for the Marc VDS team for next season. It appeared that was going to be in Moto2, but there is now speculation, and a chance that Rabat could move to MotoGP on the production Honda that Redding is currently riding, if Marc VDS decide to take that on too. If not then Rabat is expected to continue in Moto2 alongside Moto2 rookie Alex Marquez.
Should Marc VDS move in and take the factory Honda on, Redding certainly wouldn't have a problem going back to the team he see's as family.
"There are a lot of rumours but I think that your guys know more about it than I do," said the 21 year old.
"My priority is to stay here at Gresini because we've done a great job this year and I think that we can do a great job next year as well. But my main priority is to be on a Factory [Honda] and if they can't give that to me I'll have to consider my options, because I need to keep going in my career and make podiums."
Marc VDS aren't the team rumoured to be showing an interest in the final RC213V. LCR are understood to be monitoring the negoations, as they look to expand, and the Aspar team are also understood to be keen. With two of the RCV1000R's this season, they may look to run a one and one project much like Gresini have this season.