Redding only interested in a factory bike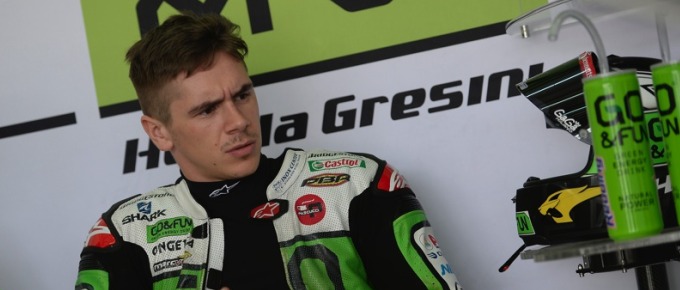 Scott Redding has excelled everybody's expectations for him this season. The young Brit has almost gone under the radar on the under powered Honda RCV1000R. He will now head to his home Grand Prix at Silverstone next week, with his future for 2015 set to be decided next weekend. 
Redding was widely expected to take the seat vacated by Alvaro Bautista on the full spec RC213V factory machine in the Gresini team in 2015, however the Italian is struggling to find the money to lease a full spec RC213V from HRC for a full seasons racing. Go & Fun are expected to pull the plug on their sponsorship. HRC have given Gresini an extended and final deadline of the British Grand Prix to find the funds for 2015 or they could be left without a machine next season. 
But all of this has left Redding in a bit of a mess one year into a two year contract at Gresini, and potentially without the full spec prototype next season as he was expecting. 
One thing Redding has made perfectly clear is that he has no intention to remain on an open class bike. He doesn't want to continue to compete for tenth place and top open bike, he wants to be challenging for podiums and race wins. Redding finished the top open class bike in Indianapolis, and it was the first time that the RCV1000R had taken that 'accolade', but for Redding, "it was a little frustrating".
"I don't want to be racing for a made up prize like first open class bike," Redding wrote on his blog for BT Sport. "I want to be competing on equal machinery with the other three riders who were in parc ferme with me at Indy; Marc Marquez, Jorge Lorenzo and Valentino Rossi.
"That's what we've been working towards since the start of the year, but we've hit a few obstacles in what was supposed to be a pretty clear path from open class RCV1000R to full-on factory RC213V in 2015.
"It's frustrating because so far this season I've done everything asked of me."
So it all seems pretty easy. Redding ends up on a factory Honda in his second season? Well apparently it's not. 
"I know Honda want to have me for two years and they'd also be happy to see me on a factory RC213V. But if the team don't have the big amount of money needed to lease and run the bike, which seems to be the case at the moment, what can I do?
"All I know is that I'm not prepared to do a second season on an open class bike. I don't want to be racing to 'win' the open class; I want to be up at the sharp end, fighting with the factory Hondas and the factory Yamahas.
"I believe I can do it, but I need the right bike if I'm going to prove that to everyone else, because the factory bikes have a big advantage and that advantage will still be there next year."
If Gresini do end up failing to find the funds, where would that leave Redding? 
Well, his old team, Marc VDS could come to the rescue for Redding. Marc VDS have flirted with the idea of making the jump into MotoGP for a few years now, and the main thing holding them back has always appeared to be a lack of competitive material. That may change if Gresini does end up vacating his RC213V, could the combination of former rider and HRC employee Scott Redding be enough to tempt Marc VDS to finally join MotoGP? After all, if he turns down a RC213V, what would make you move up?
Another option for Redding may be to move to Ducati. Ducati are still searching for a rider to take the seat which will be vacated by Andrea Iannone as he moves to the full factory Ducati team, and have been keeping a close eye on the Redding situation. Redding tested the Ducati as a Moto2 rider, and held talks with Ducati before turning them down to stay in Moto2 another season, and then eventually moving to Gresini. 
However, despite the initial rejection, this hasn't deterred the Bologna based factory from continuing to persevere their man should be become available. "We heard that there was some uncertain situation and while we don't want to interfere with Fausto or with Honda, we let the management of Scott know that if they can't find an agreement we would be interested to talk to them," Ducati MotoGP Project Director Paolo Ciabatti told MCN.
"We like Scott. He has proven to be a good rider this season and also for what he has done in the past. We are waiting, as we know he as an agreement with Gresini. We said in case he was looking for different opportunities then let us know."
Whether Ducati would be willing to offer Redding a package the same as what Andrea Iannone has been riding this season, and whether that would be enough for Redding remains to be seen. But after Silverstone, the short term future of Scott Redding will hopefully be a lot clearer.