Redding's future remains uncertain as Marc VDS deadline looms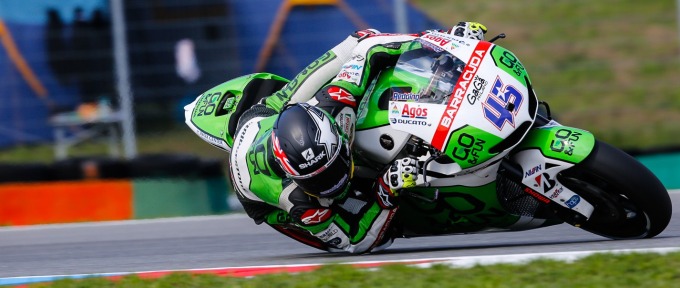 Scott Redding has admitted his future remains uncertain, confessing to turning down other attractive offers waiting for Gresini to find the finds to run him on a factory Honda.
The Brit signed a two year deal with the Italian team, with the idea being the first season to be on a production Honda, and the second to be on a fully packed RC213V, the same as what Marc Marquez finds himself on. 
However, funding issues for Gresini means they no longer have the cash to fund their satellite Honda project, and will instead be the official Aprilia team for next season. This leaves Redding in a dilemma. Does he leave Honda and honour the second of his two year contract with Gresini, or does he (or a new team) pay the €400,000 required to terminate the second year of his contract, and allow him freedom of the remaining options available in MotoGP?
Redding admitted today in the pre-race press conference that his first priority to remain with Honda. When he was asked where he would like to be in the future, he simply replied with: "With this guy in the orange," pointing and referring to Marc Marquez and his Repsol Honda.
Redding said that other offers have come his way whilst he has been waiting on his future, suggesting he was offered the LCR seat before it went to Cal Crutchlow, and he still has a standing offer from the Pramac Ducati team should any potential Honda deal fall through.
But it is with Honda that he wants to be racing in MotoGP next season, even if he has been made to feel somewhat forgotten about by HRC, referring to himself as "the ugly duckling".
"It's a big decision. I am 21, the same age as Marc and we are in two different positions but in the end we need to be in the same place. I am scared to make the wrong choice. I don't want to step on the wrong people's toes but I don't want to be treated the wrong way. I want to be respected as a rider that can be competitive," Redding said whilst speaking to Bike Sport News in San Marino.
"I have a feeling that in many areas, people don't have that last bit of trust in me. Maybe he can do it, maybe he can't, not like, 'We believe this guy can do it,' and it's difficult to accept that. This is why, for the moment, we are waiting. On the outside, people are showing they do want me but on the inside, it's a different story. This is what I find difficult. I think with a Factory bike I could finish top five in the first race. I am not going there to finish eighth.
"Obviously, my manager will help me make the decision. I have to talk to people that know me and know the sport but who see it from a different angle. I get the final say but it's nice to have the confidence in people around me. I need to find the right way. I want a Factory Honda and this is in my contract. I was told one year on the Open bike, get the results, and then a Factory bike. I am out-qualifying my team-mate every other race and now faster than other Open Hondas. Where's the problem? I want to win and that's what I need to do it, you can't do it on underpowered machinery.
"For me when I see Jack (Miller) coming from Moto3 to an Open bike, which will be more competitive next year, I feel like I am the ugly duckling and a little bit on the side. I feels like they don't want me, but don't want to give me away. At the moment it's hard and it's a big decision. Everyone knows Gresini will not have a Factory Honda next year and my contract says a Factory Honda. We all know they are going to have Aprilia.
"Ideally, I should be able to go somewhere else, and I can if I pay €400,000 and I don't have that. I have lost some really good deals as I respected the contract but then they signed another rider, so now I am on the sidelines. I am a little bit disappointed."
Redding's future depends massively on what Marc VDS can do. If they can find the necessary funds to help Redding, then their former Moto2 star, should be on a factory Honda, with their support for next season. If not then he has a decision to make. It looks like the decision will be Aprilia, or Ducati for the young Brit.