Valentino Rossi: It was a mistake going to Ducati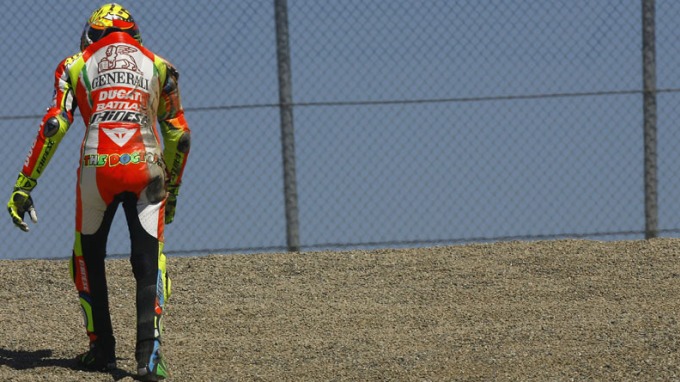 Valentino Rossi has admitted it was a mistake leaving Yamaha for Ducati back in 2010, saying he was annoyed with Yamaha.
Rossi had initially joined Yamaha after a fall out with Honda in 2003, and turned the 2004 M1 into an instant race winner, with victory in his very first race in Welkom. He went on to win five championships in eight years with Yamaha before deciding to take on the Desmosedici challenge in 2010, something he admits he regrets doing.
"It was a mistake to go to Ducati, because I was annoyed with Yamaha. Because after having won (the title) with Yamaha in 2004 and 2005, after so many years in which Yamaha had been struggling, Yamaha decided to bring a very strong teammate, and then I got really annoyed at it. But now I understand I was wrong. Also because the treatment in the Yamaha box has always been very equal," said The Doctor in an interview with MotoGP.com before his home race in Misano this weekend.
"Even in 2008 when Jorge arrived we were always at the same level, and it is still like that. This year Yamaha has made a big effort for me, to create the conditions for me in which I can give my maximum, but they also do their best for Lorenzo, and I can say we are 50/50 in terms of importance in the team.
Despite issuing what appeared to be ultimatums ahead of the decision to move to Ducati, the Doctor maintains he never had a problem with Lorenzo, insisting they always had a competitive rivalry.
"I have never had an argument with Lorenzo, we are great rivals but we get on well. There is a good atmosphere in the team even if we are rivals. I think the thing with the exhaust pipe in Assen was a mistake from Yamaha because they had to give one to me and one to him but in the end they gave him two, but it wasn't not a big problem."
Despite the Ducati dream failing, it's not something he says he regrets. He said it was worth a try, and is glad he did try it. 
"I always say I haven't any regret to try with Ducati," Rossi said in the pre-race press conference in Misano. "Especially because it was so important to try. It was a big bet, but if I was able to win with Ducati – Italian rider on an Italian bike – it would have been so important and so great.
"Unfortunately we could not achieve the results I expected, but I never regret making that choice.
"Unfortunately I was never able to have a good result because when I arrive I think the Ducati was the most different bike to ride, compared with the M1. Especially the feeling with the front and you had to ride in a different way.
"So I tried, together with especially Filippo Preziosi, to fix this problem but unfortunately we never arrived to a good point. We did some good results especially in the wet, and the dry here at Misano, but we were never able to find the right way to improve the bike."