Rea or Laverty for second LCR seat?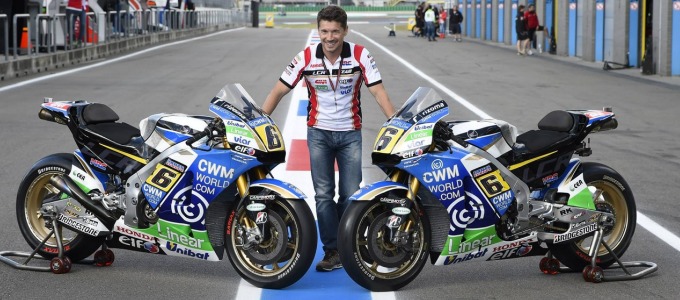 LCR Honda are targeting both Jonathan Rea and Eugene Laverty for the second bike, the production RCV1000R, to form an all British team next season alongside Cal Crutchlow. 
There has been intense speculation that Australian Moto3 rider Jack Miller will be the man to partner Crutchlow next season in the two man LCR squad, however, LCR Sporting Director Oscar Haro has said that there has been no confirmation from HRC yet, and anything suggesting otherwise is just speculation.
Haro did confirm that 2015 will be the first year that the LCR team run with two bikes, with a sponsorship deal from investment firm CWM FX funding large portions of the new project. CWM will be the main sponsor for Cal Crutchlow, with the current smaller sponsors such as Givi and Linear appearing on the second bike.
"The project includes two motorcycles," Haro told the Spanish MotoGP channel Movistar. 
"For the second bike, we are in contact with two riders: Jonathan Rea and Eugene Laverty: a rider who has already ridden with us in the 250 class. Having a structure of two riders is something we have been perusing since 2006; we have worked very hard to get to this point and we are very happy about it.
"We hope to name the second rider when we get to the San Marino Grand Prix."
Could the second rider still be Jack Miller?
"HRC has been negotiating with Miller for some time, but the reality is that nothing is confirmed and that there is more gossip than fact. I would like to have a project going with a young rider. The team has done things like that in the past with Stefan (Bradl) and Casey (Stoner), who was with us for six years."
Haro admitted he would like a young rider to help build and progress like the LCR team did before, but also confessed it wasn't down to him or the team, but to HRC. "That (Miller) project is something I would love, but it is down to HRC entirely – it is not our project," he said.