Crutchlow has understeer fears; Dovi doubting dry podium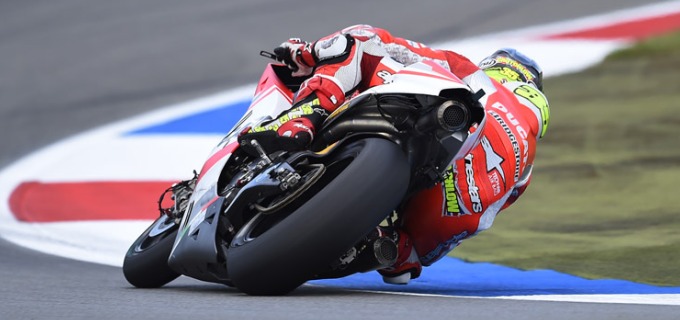 Briton Cal Crutchlow has had a first half of a season to forget on his Ducati, however this weekend he returns to the scene of his best MotoGP finish, the Sachsenring, where he finished second place, just a second and a half off eventual winner Marc Màrquez. 

This should give Crutchlow some confidence going into this weekend's German Grand Prix, however his Ducati isn't the same bike as his M1 from last season, and the closest he has been to Marquez all season was in Le Mans when he finished 25.780 seconds behind. 

"I've never ridden at the Sachsenring on the Ducati, but I like the track and went really well there last year, when I was second in qualifying and finished second in the race, which is one of my best results ever in MotoGP," said the 28 year old Brit. 

"Unfortunately because of the layout and the corners I think we will have a few problems with understeer on this track, but we will see and as always I'll try my best to be competitive."

Meanwhile Crutchlow's team-mate Dovizioso finished seventh and 30-seconds from victory for Ducati at the Sachsenring last season, but comes to Germany this year after a season best second place last time out in Assen. 
Dovi's second podium of the season in Assen did come in the changeable conditions in Assen, thus prompting the Italian to downplay his chances of backing up the result in a semi home race for Ducati. 
"The result at Assen was very important for me and the Ducati Team, but I don't think we have the speed in dry conditions to be able to aim for the podium too much. As always however we must push 100% and improve over last year."
Despite Dovi downplaying his chances, there are some reports that suggest Saturday and Sunday may end up having some rain, which could aid the Ducati. 

"In my opinion Sachsenring is too short and too tight for MotoGP, but I think the bike has improved from last year so we have to show the difference at every race, like we did at Assen."
Dovizioso also had his say about Crutchlow's future. Crutchlow is, in theory, the one Ducati rider with a contract for next season, but he also looks the more likely of the two to depart the Italian company at the end of the season. Crutchlow has an option to leave Ducati after one year of his two year contract if he desired, and is rumoured to have a decision deadline at the end of July. 
"I knew Cal couldn't be as fast with this bike, just because of the limit of the [Ducati]. I expected a little bit better, but also he doesn't have any different experience apart from the Yamaha," said Dovizioso. "When the bike has a big limit it is more difficult. For sure Cal is a fast rider and we know the potential of Cal."
With rumours of Andrea Iannone in line to take the place of Crutchlow should he leave, it is bound to be an important weekend, with the next race not until early August when the Grand Prix paddock reconvene after the summer break in Indianapolis.