Valentino Rossi 'in talks' over contract extension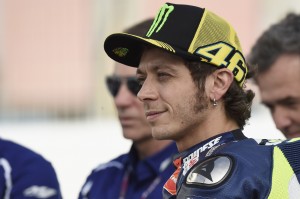 Nine-times World Champion, Valentino Rossi has revealed he is in talks with Yamaha over a two year contract extension, on the eve of his 300th Grand Prix at his beloved Mugello. 
The Doctor was in the pre-race press conference in Mugello when he confirmed that he and the Movistar Yamaha team are in talks over a new two-year contract. 
Despite confirming that he was in talks with Yamaha, Rossi wouldn't give much away, instead just saying that he and the factory are discussing a new deal.
"We are speaking," said the Doctor.
"We need some time, but not a long time to decide. I hope to continue another two seasons."
Valentino, who has always been the master of perfect timing, couldn't have planned his 300th Grand Prix to be in the perfect location, although he is treating it the same as he would any weekend, despite the magnitude on what it bound to be a historic Grand Prix. 
"It is a number that doesn't make me happy because it means I am very old," said the Doctor with a trademark smile. "I'm happy to be celebrating my 300th Grand Prix here in Mugello but I'm happier to be arriving here in good shape.
"It's important to keep improving, to keep working with the bike and improving my speed. I want to have a good weekend like at Le Mans and Jerez and fight for the podium. This is a good track for Yamaha on paper but Honda have raised their level and it will be hard to beat Marc."