Lorenzo hasn't received a contract offer from Honda for 2015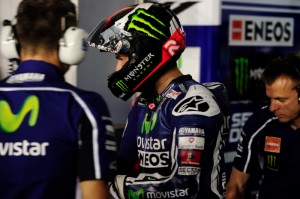 Jorge Lorenzo hasn't received a contract offer from Honda, and is expected to renew his Yamaha contract in the coming weeks.
The two-time MotoGP World Champion has endured the worst start to his MotoGP career, recording just one podium in the first five races of the 2014 season.
With the 27 year-olds contract expiring at the end of the season, speculation has been rife that after six seasons on the Yamaha the Mallorcan is ready to leave the brand that gave him his first chance in MotoGP back in 2008. With Marc Marquez and Cal Crutchlow the only factory riders signed up to a contract for 2015, there is, in theory, an available seat in both the Honda and Ducati camps, as well as the introduction of the Suzuki for 2015.
However, with contract renewal season in full force, Lorenzo's manager, Albert Valera, has spoken to Motocuatro and explained that he has spoken to Ducati and Suzuki, but not Honda.
"Well, the truth is, that in the end, the paddock is very small, and we all talk to everyone. It is true that both Ducati and Suzuki have asked me what Jorge plans for next season are.
"We have not received any offers from Honda. We have not talked with Honda, nor have we received any interest on their part."
Valera went on to explain Lorenzo has had an offer to extend his current Yamaha contract since Valencia last year, and he is expected to be signing it by the German round in just over a months time.
"The priority for Jorge is to remain at Yamaha for two more seasons and we will continue talks this weekend at Mugello. We had been offered a two-year renewal last year in Valencia, but at that moment, Jorge refused to take time and see how the bike would evolve in 2014. At Sepang, the impression was not good but in the Phillip Island test the situation had improved. As for Rossi, Jorge would be honoured to continue as his teammate.
"Jorge is 27 years old and has taken part in 10 seasons, claiming four titles and many other victories. He, alone, is the one who must make a decision of which plan best suits him; my job is just to put all of the options on the table. The intent is for Jorge to continue with Yamaha, but I am committed to trying all of the available options. In my opinion, Jorge is much more focussed on sports than he is on economic projects. Lorenzo is a winner, a rider who thinks only of victory.
"Like I said, in Mugello we will talk with Yamaha. Once the is offer is firm, and in black on white, Jorge will want to evaluate it. My impression is that in two or three races we'll announce the future of Jorge, who, again, will almost certainly continue with Yamaha."
Despite talking to Ducati and Suzuki, Lorenzo's first priority is to remain competitive and to win. Hence why is the wake of rumours of a record breaking offer from Ducati, Lorenzo's first option remains with Yamaha.
Indeed Ducati boss Gigi Dall'Igna has said that he has no intentions to up Lorenzo's contract. He wants Lorenzo, and if Lorenzo isn't serious about signing, then he will no pursue his man. Speaking to this week's edition of Motorcycle News, Dall'Igna said: "I don't want to have to convince a rider to join us. A rider has to believe that the Ducati can reach the results."
Lorenzo will presumably stay at Yamaha, alongside Rossi who in Mugello confirmed he is on the verge of a two year contract extension at Yamaha, but could this be the point in where Lorenzo's star has finally gone?