Lorenzo wants improved breaking on his M1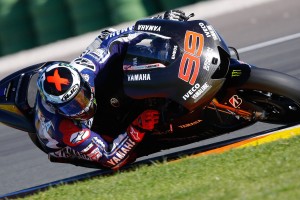 Jorge Lorenzo has once again reiterated his desire to retire at Yamaha, although he has once again said his bike will need improving for that to happen.
Lorenzo surrendered his MotoGP crown to Marc Marquez this year by just four points in 2013, but he wants more from his bike next year.
In a recent interview with Spanish publication Marca, interview Lorenzo was asked what he would like for Christmas this year, the two time MotoGP World Champions just said he wants improved braking on his Yamaha M1.
"Considering there is no such thing as the perfect bike and there is always room for improvement, right now braking is where my bike falls short," said Lorenzo.
"We have to improve both the electronics and the stability on the chassis and front forks."
Lorenzo was then asked his thoughts on the rumours surrounding his team-mates retirement. Lorenzo replied as measured as ever, without going as far to say Rossi would be missed.
"Everybody involved in motorcycling wants Valentino to continue making the sport great and well-followed."
He was also asked about his thoughts on a potential line up with Marc Márquez after the World Champion said he wouldn't veto a move should Lorenzo make the switch over to Honda. This is also where Lorenzo reinstated his desire to stay with Yamaha, but issued another warning shot if the bike doesn't improve.
"My plan is to retire at Yamaha. That would be perfect, my dream,"said Lorenzo. "If Yamaha can offer me a slightly more competitive bike than this year's, which was already a great bike, it will be easy to sign a new deal with them.
"If not, I'll take other factors into consideration, not just the bike; I'll also look at how at home I feel in the team, the faith it has shown in me, even during the toughest times…. but evidently we want to win and the bike will be key when the time comes to sign a new deal.
"My plan is to stay at Yamaha, but you can never say 'definitely not' to any of the teams."