Marquez unaware of any other 2015 offers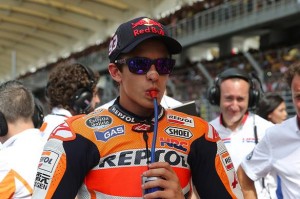 Defending MotoGP World Champion Marc Marquez has said that he is unaware of any other interest he received about his services in 2015 before signing a new deal with Honda.
The 21-year old World Champion signed a new two year deal with HRC just before the French Grand Prix last weekend, although the Spaniard claims he knew nothing of any potential interest from Yamaha, Ducati and Suzuki for 2015.
Marquez' desire to stay with HRC for a further two years was so great that Marquez' manager and mentor Emilio Alzamora never informed Marquez of any interest that came his way from any of his rivals.
"It is obviously important for a rider to know that other brands are interested, but I was very clear that I would continue with Honda," said the former 125cc and Moto2 World Champion. "I just heard about the Honda deal.
"I think it is logical that other brands were interested and asked, but Emilio is the filter and he did a very good job to ensure I could just focus in my job on the track.
"That also helps me to have such strong results. But I always felt very strongly that I wanted to continue with Honda."
Just who will be partnering Marquez in the HRC team remains to be seen. Dani Pedrosa has made it clear that he has every intention to remain a factory Honda rider into 2015, whilst Jorge Lorenzo may have his head turned after just one podium in five races in 2014.
Regardless of who will be joining him next season, Marquez heads to Mugello with a 42 point lead over his team mate Dani Pedrosa in his record breaking start to the season.