Laverty will get his Suzuki MotoGP chance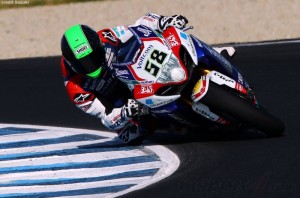 Eugene Laverty will get his chance to prove his worth to the factory Suzuki team when he gets two MotoGP tests at the end of this month, and at the beginning of June.
Laverty, who spent two seasons in the 250cc class in between 2007 and 2008, will get his chance to show the Suzuki factory just why he should be given the MotoGP ride when Suzuki return to the paddock in 2015.
Laverty will be in action in Japan at the end of May, before heading to Phillip Island with the Suzuki test team at the beginning of June, which falls between the World Superbike events at Donington Park and Sepang in Malaysia.
Laverty will need to hope that he can impress Suzuki team boss Davide Brivio, with silly season starting to get into full swing with the Grand Prix paddock returing to Europe.
When speaking to German website Speedweek, Brivio said that he is under no pressure from the Suzuki bosses to secure a marque name, but he wants to get the best riders he can for the Suzuki team.
"If there is the possibility that we can now negotiate with a top rider, then we'll do that," said Brivio. "From the Suzuki board there is no time frame as to when we have to get riders under contract. Our goal is to acquire that the best available rider. We then see if we get number 1, 2, 3, or whom."
Brivio and Suzuki are under no illusions, and appreciate they are highly unlikely to lure a Marquez or a Lorenzo to their team. So they are willing to be flexible, looking in "all paddocks" to find their riders.
"Eugene Laverty is a very good rider. He is certainly one of the best current Superbike riders. If one of the Superbike riders take the leap into MotoGP, then he is probably the one who deserves it. We have an open mind."
Brivio insists that test riders aren't the only thing that are helping develop the new bike. With the companies heritage they are confident the new bike will be worth the wait.
"Suzuki has a lot of experience in the MotoGP class. The company have the knowledge to build a good bike."