Yamaha unveil 2014 Movistar M1 in Qatar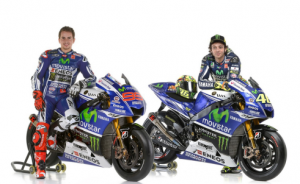 Yamaha have today unveiled their new 2014 MotoGP entry complete with Movistar backing.
Yamaha had initially launched their 2014 bikes in Indonesia back in February, but since then a huge deal was struck for the Spanish media giants Movistar to become title sponsors of the bike.
The bike was unveiled with the full team there, and on the straight of the Losail circuit in Qatar where the 2014 MotoGP season kicks off tomorrow, and the bike isn't as similar to the one seen in Indonesia as many people thought it would be. The new M1 features a lot more blue, and a lot less chrome than the initial design. The white still remains on the lower half of the fairing and the tank, with Monster and Enos still present the new M1 is showing the marketability of Rossi.
When compared with the no sponsor 2011 livery, the bike almost looks congested, but the added finical backing should benefit Yamaha.  Lorenzo and Rossi won't care whats on their bike, as long as it allows them to challenge the Honda's, they'll be happy.
Enjoy an extensive 126 image gallery of the new Yamaha here.