Yamaha deny Lorenzo chance on Open Yamaha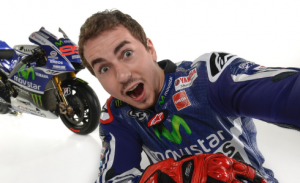 Yamaha have rebuffed a request by Jorge Lorenzo to test the new Open Class Yamaha.
Jorge Lorenzo didn't enjoy the best of pre seasons with his Yamaha as he struggled to get to grips with his new M1, whilst Aleix Espargaro on his Forward Racing Open FTR-Yamaha enjoyed a pre season he will never forget, running with the factory boys, and beating the Factory Yamaha's on more than one occasion.
This prompted a request by Lorenzo to test the Open bike, which he is sure combated with the added fuel, engine allocation and soft tyres would mount a better title challenge than his current, 20 litre, 5 engine, factory entry M1.
Yamaha however declined the request, insisting Lorenzo would just ride his factory bike, and that would be his bike for the season, regardless of Lorenzo's wishes and concerns.
"I wanted to do it (test Open-spec YZR-M1) but Yamaha didn't allow me to try because they are clear they want to race with the factory bike," Lorenzo told MCN in an interview in Qatar.
"If they are going to race with factory bike then there is no meaning to try the Open class. I think the Open class at the moment has more potential but I am a Yamaha rider and I ride with the bike they decide and I give my 100% with that decision.
"We had a meeting about this and Yamaha decided to go Factory."
There had been rumours that Yamaha were considering the switch to Open much like Ducati have done, although the Yamaha electronics package is far superior to the Ducati package even if it isn't as advanced as the Honda one. With the rule change coming in 2016, Yamaha may be tempted to go slightly more towards open in 2015 with the standard electronics package coming the year after. Although most of the decision making regarding that will be made on the back of how competitive Espargaro and the Forward team are in 2014.
Despite not getting the test, Lorenzo was in a positive mood ahead of the season opener, and was delighted with the improved seamless shift gearbox he now has on his M1.
"The bike with the new changes [one litre less fuel] is working really well and we solved the little problem of the engine, fixing the electronics in order to mitigate the aggressive behaviour on the starts," he said.
"Now its response is softer than at the beginning of [testing] in Malaysia and also we can count on a 'complete' seamless gearbox, that is also good news for us. I'm really looking forward to tomorrow, following the unveiling of the new Movistar Yamaha MotoGP livery. I love the new bike and the new colours."