Jack Miller exclusive interview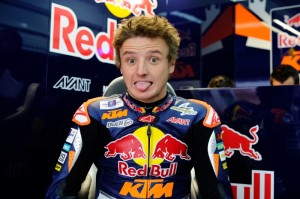 The Moto3 class has been notoriously hard to predict in the past, yet this year we head into the class with an outright favourite after testing dominance and impressive results on underpowered machinery in previous years. The man the field is expected to be chasing this year, Jack Miller.
The young Aussie heads into the 2014 season as bookies favourite for the year, and with good reason. After moving from the underpowered Racing Team Germany Honda to the Ajo and Red Bull run KTM team, Miller dominated pre-season testing, finishing all three tests over Valencia and Jerez as the fastest rider.
Despite the claiming the fast laps in testing, Miller understands that pre season testing is very different to racing on a Sunday afternoon. "The test and the races are two completely different worlds," said Miller speaking exclusively to GPxtra.
"I think Rins and Marquez will be strong, I'm sure of that. Also Danny Kent, Karel Hanika, Antonelli, Fenati, Kornfeil, Isaac Viñales, Bagnaia… They are all tough opponents to beat.
"In this class, you never know, so we'll have to wait for the first race and see who is strongest."
Despite his modesty when looking at testing times, Miller is feeling good ahead of the season, and is happy with his new bike and team.
"I'm feeling really good; it has been a very good preseason. I learnt a lot and the whole team has helped me. We've had some truly productive tests, so I think we're prepared for the first GP.
"I feel really comfortable, but I also could do a little testing last year and maybe this is the reason why year it's been fantastic. I'm sure we'll have some little problems, like any team, but we always seem to find a solution fairly quickly."
Miller's transition period has been aided by Aki Ajo, a man he calls 'the best team leader I have ever had'. He has overseen title-winning seasons for Marc Marquez and Sandro Cortese in recent seasons, and Miller hopes to follow in their footsteps.
 "Aki's a great professional. Undoubtedly, he is the best team leader I have ever had. He's nice and friendly and very calm, so it's very easy for me to work with such a person. In addition, in my opinion the Red Bull KTM Ajo is the best team, so was an opportunity unique, the biggest step in my career."
Miller's confidence with his new bike and team is hardly a surprise. Coming from the Honda last year, which really struggled, and getting onto the bike, which Luis Salom won seven races was always going to be an upgrade for the 19 year old. He does however appreciate his time on the Honda, and feels it's improved him as a rider on the whole.
"The Honda and the KTM are a completely different bikes. Now, with the KTM we are getting close to what we want. Almost all the chatter has disappeared and that's the most important thing. We'll continue to work on developing the chassis as much as we can. The engine is ok, so we can devote our time to other aspects of the bike.
"Riding other bikes has taught me about much more than just opening the power on the straights. I think it has helped me improve as a rider."
Moving to the highly successful Ajo team has been an undoubted step up for 'Jackass', but he is mature enough to understand that there is always scope for improvement, and he still has a few things he wants to cure before the lights go out in Qatar.
"You can always improve, but right now it is not easy to say what will be needed in the first race. I would like a bit more rear grip, but I think in Qatar we will have different problems –especially with the front wheel grip. It's hard to say until we get there."
Going into the season as a title favourite comes with a certain degree of pressure, although Miller insists that the only pressure he comes under is personal pressure rather than feeling it from outside or even the team.
When asked if he feels pressure getting onto a race winning bike, he said: "No, not really too much. The only pressure I feel is personal. I want to do well for myself and I know I can do it. I've trained hard for many years and I think I'm ready. But I do not feel any external pressure or from the team."
He is happy to with his reputation as the next big thing from Australia, but doesn't let the added pressure that comes with the tag get to him, instead he embraces the title, wears it with pride and hopes to use it to his advantage.
"It's a very important moment in my life, but as I said before, the only pressure I feel is personal." A very good, and measured reply from such a young man showing the mature head he has on such young shoulders.
Miller has a very serious approach to his racing, but his antics around the paddock clearly shows that despite having so much pressure, he can clearly let his hair down, and still enjoy what he is doing.
He has a fantastic opportunity to become Australia's first junior class World Champion since Tom Phillis won the 125cc title way back in 1961. Miller has the bike underneath him, and the team alongside him to mount, and sustain a serious title challenge.
When asked what his aim for the season was, he simply replied with; "To try to get the best results possible and – why not? – Become World Champion."