Brivio dismisses 'Rossi to Suzuki' reports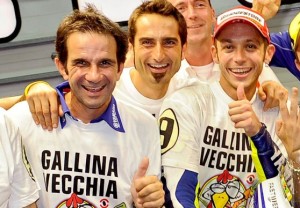 Valentino Rossi won't move to Suzuki in 2015 for a re-union with Davide Brivio in spite of reports in the Italian press.
Suzuki are hoping to return to MotoGP after a three year hiatus in Grand Prix racing, and reports in Italy have linked the nine times World Champion to a move to Suzuki next season.
Despite Suzuki's return being overseen by close friend of Rossi, Davide Brivio, the Italian isn't planning on moving to Suzuki, or even leaving Yamaha next year when his contract is up.
Last year during an interview with Speedweek, Rossi said he would stay with Yamaha until he retires.
"I'm going to finish my MotoGP career with Yamaha," said the 35 year old Italian.
Brivio was the manager of Rossi's hugely successful VR46 clothing and merchandise company, before moving to take the reigns at Suzuki, thus drawing the links to the two in Italy.
Suzuki haven't got any riders confirmed for racing roles next season, with Randy De Puniet and Nobuatsu Aoki currently testing the bike. Rossi's development skills could've been an integral part of the return, according to the reports anyway.
However Brivio has now dispelled the latest rumours of reunion next year with Suzuki, and even suggested Rossi is ready to sign a contract extension with Yamaha.
"In my opinion, Valentino has decided to stay with Yamaha until the end of his MotoGP career," Brivio told Speedweek.
"After two difficult years at Ducati he is not in the mood to take such a risk again. He has returned to Yamaha and wants to stay there as long as possible. 
"I think Valentino is extremely motivated for the upcoming season. I think for his career the most logical thing is to finish his career with Yamaha."