Crutchlow race simulation halted by front tyre problems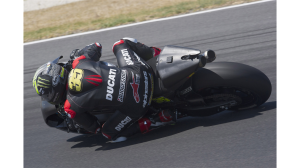 Ducati rider Cal Crutchlow was left frustrated and confused leaving Phillip Island as he lost all grip from the front tyre, leaving it "destroyed" half way through his long run on the final day of the Bridgestone tyre test.
Crutchlow was on a race simulation of 27 laps – the full race distance usually in Phillip Island – when after just 18 laps he had to abort the run and pull into the pits on the ground of safety.
The Briton was taking part in his first test on the fully open Ducati bike, which features a new exhaust as well as the full Dorna supplied Magneti Marelli software. He managed to set his fastest time of the test on the opening day, a 1.29.576.
"We wanted to concentrate on long runs today," Crutchlow told MotoGP.com.
"We wanted to make a full race simulation, which I planned to do this afternoon, but I had to abort the simulation after 18 laps – which I was really disappointed about – because the front tyre fell to pieces.
"We were very consistent in the long run, but it was too much risk to carry on. When I came in the pits the front tyre was destroyed. The [rear tyre] option that I choose to do the long run on, I had never even tried. I just went out and carried on."
Crutchlow went a step further when speaking to MotorCycle News.  "I had to abort the race simulation after 18 laps with a destroyed front tyre and that's ironic. We had to test rear tyres and the front tyre got destroyed," he said.
"I was quite disappointed about that because I was ready to do 27-laps and felt good on the bike and my consistency was there. We chose the wrong rear tyre to do the simulation on and it was the first time I'd left the pits on that spec. I decided to carry on and I should have chosen the other rear. After 10 laps I was noticing I should have used the other one but we are here for to give Bridgestone information.
"I had no problem with the front up until 15 laps. It was coming worse but you expect that and then after that it was a disaster. I don't understand why or know why. I had no problems with the front tyres all week. I used the softer one but I wouldn't expect it to take chunks off like that."
Crutchlow and the rest of the MotoGP Factory riders will next be on track on the first practice session in the season opening race in Qatar on 20th April.