Lorenzo much happier in Bridgestone Phillip Island test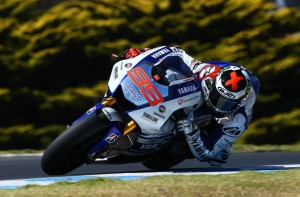 Jorge Lorenzo was the fastest rider during the Bridgestone test in Phillip Island, days after he was totally dismayed with the new Bridgestone rubber in Sepang.
The former MotoGP World Champion was struggling with edge grip with the 2014 structure Bridgestone's, but the Mallorcan appears to have solved a few issues in Australia.
Lorenzo finished the day with a fastest time of a 1'29.213, 0.363 seconds clear of second place Crutchlow, which is still around a second and a half off the pace of last years pole position, but will leave Lorenzo happier after his issues in Sepang.
"After Sepang I told the press that the tyre Bridgestone gave us for 2014 is too hard for everyone – especially for Yamaha – but with normal conditions and normal tarmac there is no problem, as we have seen here," said the two time MotoGP World Champion.
Lorenzo and the other factory GP riders are currently doing the Bridgestone test in Phillip Island after the issues faced last year with the new tarmac, and Bridgestone are structuring the test to benefit them, as much as help the teams with a 2014 pre season test.
"We started with the 'standard' tyre that we raced last year, then Bridgestone gave us three new tyres and we did two runs with each one. Finally, the last one was the best one – even better than the standard one."
Valentino Rossi was also on hand in an effort to cure the tyre issues, and the Doctor was also happier with the work done on the island.
"We worked not only on the tyres for Bridgestone – me and Jorge did different tyre work, so tomorrow will be the opposite – but also the bike.
"I tested mainly the [revised] tyre carcass and tomorrow we will have the [different] tyre compounds."
The test continues tonight, and will run for two more days.