Tech3 factory damaged by floods in Southern France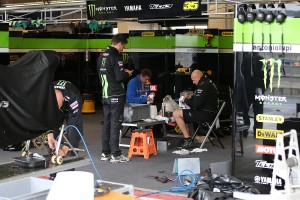 The Tech3 MotoGP and Moto2 team factories have been the victim of floods following extensive rain in the south of France.
The team who run both MotoGP and Moto2 squads are based in Bormes-les-Mimosas, in the south of France, and they were hit Sunday morning following rivers breaking and causing the factory to flood.
It was awful timing for Tech3 who were in the final stages of getting everything together before Bradley Smith and Pol Espargaro flew out to Malaysia for the first MotoGP pre-season test of the year.
The extreme weather that hit Northern Europe smashed France, and caused the problem for Tech3, who also had the misfortune of having a watertight door not working for them. The entire Bormes-les-Mimosas region has been seriously  affected by the floods, including two people who have lost their lives.
The watertight door failed at around 10am on Sunday, bursting through and covering the workshop in water and mud.
With the team scheduled to ship their MotoGP equipment out to Malaysia today in preperation for February's test, Team Manager Herve Poncharal is understandbly frustrated, but also glad it's happened in January.
"This is a major natural occurrence, but we are fortunate this has not happened at a busier time of year," Poncharal told www.MotoGP.com. "Although we have many things to prepare, it shouldn't affect us too badly."
It's not the first time the Tech3 team have faced issues with flooding. Last season during the inaugural Texas Grand Prix, a starter motor failed, and caught fire in the middle of the night, resulting in the sprinkler system being triggered, flooding the Tech3 pit as well as neighbouring garages.