Has Jorge Lorenzo already signed for Ducati?!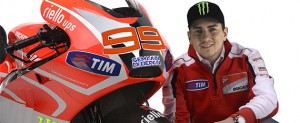 According to reports in Spain, two-time MotoGP World Champion, Jorge Lorenzo, has signed a preliminary contract with Ducati for 2015.
Lorenzo, who has ridden for Yamaha since 2008 when he joined the MotoGP class, will be out of contract next season (along with four of the other five factory riders), and the Mallorcan is believed to be the hottest property.
The rumours which came from radio station, Onda Cero say that Ducati have stolen a march on Honda and signed Lorenzo up to a preliminary two year deal, in which Lorenzo will pocket €15m per season.
However, Ducati were quick to quash the rumours, by Ducati Motor Holding CEO Claudio Domenicali, told La Stampa: "Really? Then we should also sign Marquez and can save us the development of the bike."
Ducati's denial is barely surprising, with Crutchlow just signing, and Dovizioso not having a chance on the GP14, Ducati will not want to upset either rider before the first test of the season.
The Bologna brand now of course under the stewardship of Gigi Dall'Igna who help Lorenzo on his way to back to back 250cc titles on the Aprilia, so he may have been on contact with Lorenzo over a potential move.
There is also history with Lorenzo and Ducati, back in 2009 when Casey Stoner struggled with his lactose illness, Ducati made several attempts, and offered Lorenzo a lot of money, which he deliberated over, before eventually failing to land him. With Phillip Morris rumoured to be assessing the benefits of continuing to sponsor Ducati, a big money move may just sway both parties.
However there is also a school of thought that this story was "planted" by Lorenzo's people, who are just looking to increase the imminent offers from both Yamaha and Honda, ensuring the former World Champion receives a healthy pay check.
Subsequently Jorge Lorenzo has denied the rumours, whilst with Yamaha in Jakarta, the former MotoGP World Champion has profusely denied the rumours, insisting Yamaha remains his first choice destination.
"I have to clarify that there is no truth in the rumours that there is a contract with another manufacturer," said Lorenzo during the launch. "I would like to start negotiating as soon as possible for my future with Yamaha. My dream is to retire after my career as a Yamaha rider. If our bike is even better this year then it will be easier!"
Despite Lorenzo denying the rumours, Ducati new boy Cal Crutchlow has said he would welcome Lorenzo whom he worked closely with during his time at Yamaha.
Speaking to MotoGP.com, Crutchlow said: "I believe that maybe there is truth in it. As Jorge has said himself, every manufacturer is going to want to speak to him. Of course Lin (Jarvis) is going to deny it because he wants to keep him. I hope he (Jorge) makes the right decision on where he goes."
"It would be a big challenge for him if he did come to Ducati, but I know nothing about it. The best guys to ask are the bosses of the manufacturers. Of course Jorge will deny it too, as he will want to speak to the current manufacturer that he is with. If he did come to Ducati in 2015 when I'm still there it would not affect me in the slightest, though he would bring a wealth of data and a lot of speed."