Lorenzo: Marquez and I are not enemies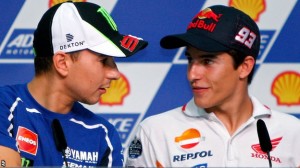 Jorge Lorenzo has said that he and Marc Marquez are not enemies, just rivals on the track.
Marquez won last season's MotoGP World Championship at the first go of asking, beating Lorenzo ultimately in a battle that went right down to the final race of the season.
Marquez not only took Lorenzo's world title, but he has also taken a lot of fans from Lorenzo. Marquez is seen as the new poster boy of MotoGP with his charming and innocent personality. While Lorenzo has been perceived to be a bit of a moaner. with the prime example of this being when Marquez hit Lorenzo at the final corner of the Spanish GP at Jerez last year. Lorenzo refused Marquez' apology and deemed the rookie "dangerous".
In spite of this, Lorenzo holds no resentment against Marquez. And in a superb interview with Spanish television channel Quatro, Lorenzo spoke in depth about his public image, his rivalry with Marquez and thoughts after the Marco Simoncelli accident.
"I am among those who think that going to the the circuit is like going to work and the office. There is no room for emotions, you have to be focused on what you do."
Lorenzo opinion has changed over time, and he doesn't dispute that. Learning from his past experiences, he is a lot more comfortable and confident within himself. He knows his strengths and limitations and uses them.
"I was a little chatty, with a straight face and with little confidence. I was a shy kid. That image, an arrogant guy, I unintentionally conveyed,  from 15 to 19, is very difficult to 'clean up' 100%.
He would also talk about how his views have matured when it comes to other racers, and how his relationship with Marquez is different to the relationship he used to have with Dani Pedrosa.
"Pedrosa and I were enemies, we were not talking. Dani's manager and my former manager did not speak, and yes, we were enemies."
But it isn't like that with Marquez. "We have had our brushes, our stressful times when I thought he was being too aggressive when overtaking rivals."
Lorenzo isn't worried that Marquez is becoming the 'new Lorenzo', and instead says that Marquez is the 'new Marquez'. He isn't worried about Marquez beating him, and he is ready to battle rather than worry about what Marquez is capable of.
"He is the 'new Marc Marquez', our personalities are quite different. In his first year he has already beaten me. I'm not worried, because it has already happened. He is a rider at the top of the tree, with incredible talent and he won six races, he wasn't champion by 'fluke'.
"But on the other hand, has benefited from our injuries, without these injuries to his major rivals might not have won. But the 'ifs' are useless, what's happened has happened and we have to accept and prepare better next year."
When asked about Marquez' public image, Lorenzo spoke about how the Marquez on the track is completely different to the sweet boy on camera.
"He gives the impression of being innocent. He seems a nice lad winding and quite natural in front of the cameras. He is always happy, despite the result, everything seems OK, Valentino also gives that image. Then there are athletes or people like me that when we are pissed off, we don't smile and can't show happiness because I'm really pissed off about the race."
"No one likes to lose. I have learned to know how to lose, but I had to learn because I could not lose."
When asked about the dangers of the sport, and the Simoncelli tragedy, he was asked if he ever thought it could be him.
"Yes, of course. I think that can happen to anyone, you are not safe from these things."
When asked about Simoncelli directly, Lorenzo said he cried when Marco died, and he regrets how it ended with him.
"I could not believe it, I shed a few tears. I regret the behaviour or attitude that I showed toward the way Marco rode. Maybe I was too aggressive with it or was diplomatic enough to fix things."