Marquez wouldn't have a problem if Lorenzo joined Honda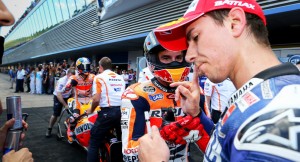 Marc Marquez has said it wouldn't be a problem should Jorge Lorenzo make a shock switch from Yamaha to Honda at the end of next season.
All four of MotoGP's top riders' contracts expire at the end of the 2014 season, and as we told you last week, Honda plan on talking, and trying to recruit two-time MotoGP World Champion Jorge Lonrezo.
Honda haven't announced a deal to Marquez for beyond the 2014 season, but the new World Champion is expected to stay where he is, leaving Dani Pedrosa's position far from future certain. It isn't a new feeling for Pedrosa either, with Honda having previous attempting to sign Lorenzo back in 2012 before he signed his most recent extension at Yamaha.
Marquez was interviewed by Spanish radio station Cadena SER, and he was asked if he would had an issue with Lorenzo's potential arrival at Honda.
"No, not at all," replied the World Champion. "What I want is to be in that garage. My team-mate [is irrelevant]… whoever arrives, whether Pedrosa stays or not, what I want is to be there.
"From any team-mate I will try to learn as much as possible. That's all."
Honda haven't made any secret that they plan on talking to Lorenzo, something which may have upset Pedrosa, who, was expected to be HRC's hope for a World Championship in 2013 with Casey Stoner retiring.
As things turned out, Pedrosa was over-shadowed by his record breaking rookie team mate, who went on to win the world title at his first go of asking.
When Marquez was asked if he thought Pedrosa's nose may have been put out of place by his arrival, Marquez replied: "It's hard to say, but if I put myself in his place… I've never experienced this myself, but it has to disturb you a bit.
"If I put myself in his place, I wouldn't like it, another rider coming in and winning."
Marquez talked further about his relationship with Lorenzo, once again demonstrating his maturity for a man so young. He was asked what he thought the Championship would be like if everybody had the same bike.
"I think Rossi and Pedrosa would have finished in the same position, while the unknown was Lorenzo," said Marquez.
He was then asked on the disagreements. "Sometimes you need to bite your tongue and do your talking on the track, that's where I like to answer the questions, I listen to, and respect the criticism, but then I go on my way," replied the 20-year-old.