Moto3 cost cutting measures to be enforced from 2015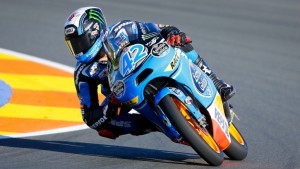 The FIM have revealed new cost cutting measures that will be enforced from the start of the 2015 season in the Moto3 class.
The Grand Prix Commission met in Madrid on 10th December to discuss cost cutting measures, with particular focus on the Moto3 class.
In the meeting, the GP commission wanted to 'maintain the Moto3 philosophy of consistent parameters for costs in a category designed to promote the talents of up and coming riders competing on a level playing field'.
Along with the GP commission, there were representatives from Honda, KTM and Mahindra all present to help come to new amicable measures to continue the success of the Moto3 class.
In the meeting all parties agreed on a maximum cost of €85,000 for chassis (including an annual evolution) and €60,000 per rider per year in terms of engines (not including gearbox).
After the meeting, Dorna CEO, Carmelo Ezpeleta said: "The manufacturers have agreed economic and technical terms, all in-line with lower costs.
"The rules for 2014 are already in place, so we are talking about the rules for 2015. There will be a series of maximum prices for both chassis and engine parts and a series of commercial rules so that, in the summer of 2014 and looking ahead to 2015, each team will have the right to decide with which [chassis] manufacturer they will collaborate for the following season (with a list of prices for components already available)."
FIM Executive Director Ignacia Verneda added: "We need a cheaper category for young riders and new equipment. We also need to have a clear system for the national championships, which are the basis we have in place for progressing to the World Championship."
"I believe all of the managers of the teams in the category will be very pleased with the way in which Moto3 is moving on," said IRTA president, Herve Poncharal.
"What everybody wants is for grids are full and races are extremely competitive – almost any rider has a chance to win. In the case of Moto3, I think the next two to three seasons will be even more exciting and will allow the teams to look further into the future with confidence."