Stefan Bradl targeting factory ride in 2015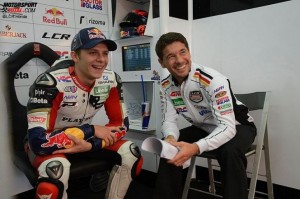 Stefan Bradl has his firmly set his sights on a Repsol Honda factory ride for 2015, and all he has to do to get it is beat Pedrosa and Rossi.
The young German has impressed in his two seasons aboard Lucio Cecchinello's privateer Honda, and will once again be riding it for a third season in 2014. But with the top four factory bikes all being ridden by riders with just one year left on their contracts, then there could be an opportunity for Bradl to make the step up.
World Champion Marc Marquez will presumably be tied up by Honda early next season, as the 21-year-old defending World Champion, and his main challenger, Jorge Lorenzo, looks set to sign a new two-year deal at Yamaha, despite his warning that they need to improve the bike or he may seek a new team. But with those two presumably staying with their current teams, Pedrosa's Honda may be up for grabs in 2015.
Dani Pedrosa has been on the Repsol Honda factory bike since 2006, and he has failed to win a World Championship for HRC, through one injury or another, but he's seen three separate team mates win MotoGP titles from across the garage. But with Alberto Puig taking a new step, and moving forward in a different direction in Honda, it looks as if it will be a make or break year ahead for Pedrosa.
Ready to heap the pressure on before a huge year, Bradl was speaking to German website Speedweek, as he spoke to HRC about his chances of a factory ride.
Bradl said he has been told to beat Pedrosa and Rossi, getting onto the podium on a regular basis, and if he does, then he may take Pedrosa's seat alongside Marc Marquez in the factory HRC squad.
"After the Valencia GP again had a final interview with HRC," said the 2011 Moto2 World Champion. "The situation in 2014 is such, there is a certain pressure there. 
"It requires some podiums, and to beat certain opponents. Of course we're speaking about Rossi and Pedrosa. This means that we have to finish on the podium permanently, which are highly ambitious targets.
"If I do that, I'm in the works team… I think. Or at least then I have great opportunities to get into the factory Honda team.
"That's a hell of a chance. But it is also brutally difficult."
Whilst Bradl has said that he was given no assurances, it would seem as if HRC have put their cards on the table, it will now depend how Bradl responds.
Although, there may be another alternative for Bradl if he doesn't end up on the Repsol Honda next season. Back when Bradl was looking to move up to MotoGP, Yamaha took real interest in signing him. Yamaha were extremely keen to get Bradl on a Yamaha, and they felt as if they could really take advantage of the German market, especially with a lack of top class German riders.
Things didn't quite work out, and Bradl elected to join Honda and Yamaha signed Andrea Dovizioso to ride the Tech3 bike alongside Cal Crutchlow, but Yamaha will monitor Bradl's progress, and may be tempted to offer him an elusive factory ride if he does beat Rossi regularly.