Will Ducati be challenging for the MotoGP world title by 2015?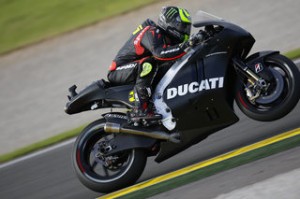 When Cal Crutchlow completed the post Valencia test a month ago, he was 1.7 seconds behind Marc Marquez, he had an idea just how big his challenge at Ducati would be.
With new additions on and off the track, Ducati are set to embark on yet another new era, and look set to go down a new path of the umpteenth time in recent years, but just how close are they to turning the big red beast back into a race winning bike?
Well according to the man now behind the Ducati project, Gigi Dall'Igna, Ducati will have a bike that will challenge for the title "within two years".
Dall'Inga joins Ducati on the back massive success with Aprilia, guiding them to two World Superbike titles in three years, and he is confident he can transform the desmosedici to produce similar results.
Despite Dall'Inga's confidence about turning around Ducati's fortunes, he is also aware of the challenge he faces, with both Honda and Yamaha continuing to raise the bar in MotoGP.
"This is a big challenge for me," said Dall'Igna during an interview with MotorCycle News. "It is not an easy job because Ducati is coming from two or three very difficult years, so we have to change a lot. I won a lot in the past, but not in MotoGP. This is the only class where I didn't have any results and this is my last challenge.
"I would like to win in MotoGP and I have joined a team with good knowledge that really wants to win in MotoGP. And I think Ducati is the only European manufacturer that can do this."
Ducati haven't won a MotoGP race since 2010 when Casey Stoner won in Philip Island, and Gall'Igna was also asked whether he thinks Ducati's main problems are a technical or organisational.
"I think both," replied the Italian. "But you can only solve the technical problem if you have the right organisation. I would like to improve the organisation and after that we have to work on the technical problems.
"Ducati has people on a high level, so I will also put my experience in this project and I hope we can improve and find a way to put Ducati in a position that everybody wants."
Dall'Igna doesn't want to put a time frame on his Ducati project, but he is confident that he can turn it around, and get Ducati challenging for MotoGP titles once again.
"Nobody asked me to win by a specific date but in my opinion within two years we will have a bike that you can play for the world championship."
New recruit Cal Crutchlow finished the post season test in 12 position, and the Brit is totally aware of the work required by Ducati and Dall'Igna, but also by himself.
"I've sat down with Gigi and asked him if he is going to build a new bike and he said he is going to work to make it work. Of course I hope they come with a new bike. When it is going to come and if that is what they are going to do then I don't know. But I believe and trust him.
"I like his attitude and he is like me and direct and straight to the point. He is going to ask a lot of the riders but that's what we want. There is no doubt he wants us at the front.
"Andrea (Dovizioso) was close the front last year on a Yamaha and I was at the front this year on a good package, so clearly the riders are good enough."