Binder and Navarro suffer injuries during Moto2 test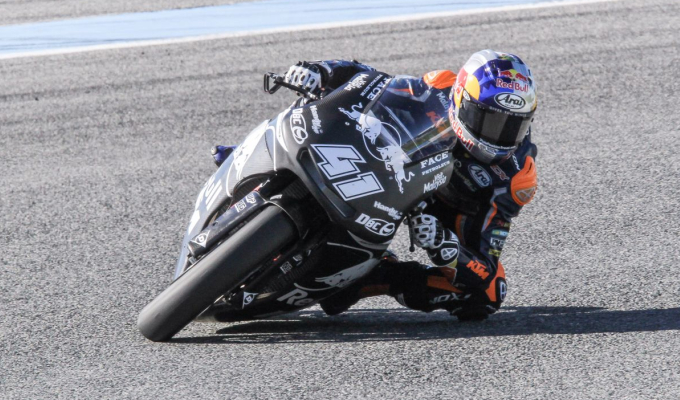 2017 Moto2 rookies Brad Binder and Jorge Navarro both suffered injuries during the first day of the final Moto2 test of 2016, in Valencia.
The 2016 Moto3 World Champion high-sided his Ajo KTM Moto2 machine at the fast turn ten, which claimed numerous victims during not only the the season finale from just over a week ago, but also in last weeks MotoGP test. Whilst the initial crash left the South African relatively unharmed, whilst falling through the gravel, his KTM machine bouncing up hit him, braking his radius and fracturing his wrist.
Shortly after the accident, Binder was transported to Barcelona where he was operated on Monday evening by rider surgeon, Dr. Mir at the University Clinic of Quiron Dexeus. He had a pin placed in his arm and will undergo rehab to be fit for the first test in 2o17.
Binder was running seventh fastest when the crash occurred, 1.6 seconds off pace setter Taka Nakagami, however, needless to say, his 2016 is now officially over, leaving a black mark on an otherwise sensational year for the 21-year old.
The x-ray on Binder's arm shows the broken radius. 📸 via @iLEBsa pic.twitter.com/VmhCf6GI1z

— GPxtra (@GP_Xtra) November 21, 2016
Brad Binder wasn't the only Moto2 rookie casualty on a busy day in Valencia, with Jorge Navarro dislocating his left shoulder whilst braking into turn eight. The 20-year-old was on just his fourth lap of the morning when his left shoulder popped out of its socket in the hard braking zone. With a dislocated shoulder, Navarro was left powerless and crashed his Gresini Kalex bike, prematurely ending his test.
The left shoulder was a known issue for Navarro and the Spaniard was due to go into surgery to repair his weak shoulder on the 1st of December, however that surgery has been brought forward after todays accident. 
"The test was going very well; we had just made a change to the set-up of the bike and I felt at ease, then at the breaking point for turn eight, I felt my left shoulder come out," said Navarro.
"I ended up in the gravel, because when I arrived there, it was difficult to keep control of the bike. I had no strength, and I fell, but without consequences. The shoulder problem had been an problem before when I was on the brakes: I have already faced this problem several times during the season because of an existing injury and this has weakened it, in fact I had already planned a remedial action next December 1st.
"Unfortunately the problem has come back today and I am very sorry not to be able to continue the tests. Now I have surgery in order to recover as soon as possible, and resume in the best way my adaptation to this category."
Takaaki Nakagami topped the Moto2 session in Valencia from Tech3's Xavi Vierge. VR46 Sky rookie Pecco Bagnaia looked at home on his Kalex Moto2 machine as he was third fastest from Miguel Oliveira and his KTM.
In the Moto3 class, Enea Bastianini topped the day on his Estrella Galicia 0,0 Honda. The Italian was fastest from the Red Bull Ajo duo of Bo Bendsneyder and Nico Anotnelli. 
Photos via Ajo Motorsports and Gresini Racing