UPDATED: Rins hospitalised after testing crash; broken two bones in his back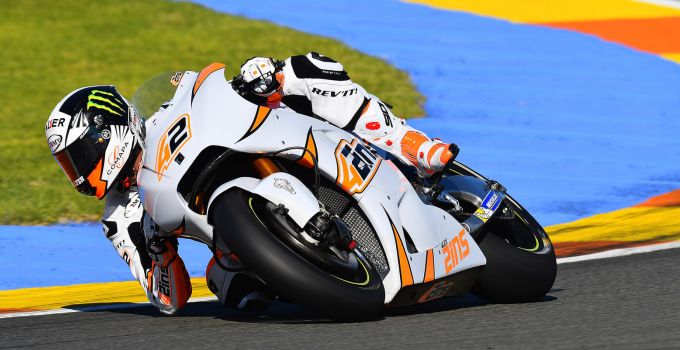 Ecstar Suzuki's MotoGP rookie Alex Rins was transported to a local hospital after the Spaniard crashed out of the second day of the final IRTA test of 2016 in Valencia.
The rookie was on his fifth lap of the morning when he lost the front end of his GSX-RR at the fast right handed turn 12. He slid through the gravel topping before the wall, however his bike continued to travel at a rate of knots, smashing into the tyre wall. Rins was moving and conscious after the crash, but had to be stretchered out of the gravel and was transported to the track side medical center. 
Moving all his limbs, Rins appeared to have no breaks or any serious injuries, but after further tests and complaints about pains in his lower back and abdomen, the decision was made to transport Rins to the local Hospital Nou d'Octubre in Valencia by way of ambulance. 
Rins has been conscious the entire time but is being transferred to a local hospital for more checks. Was complaining of lumbar pain #MotoGP https://t.co/eJ85JFwdDs

— GPxtra (@GP_Xtra) November 16, 2016
Giving a thumbs up as he was transported into the back of the ambulance Rins will be overseen in Valencia, but his test is over. 
Shortly after Rins fell, his team-mate Andrea Iannone crashed at the exact some position in a familiar fashion. Iannone, much like Rins, had touched the white line which was made slippery due to excess rubber laid down, on the outside of the track causing the riders to lose the front end much like they would've in the wet.
Fortunately Iannone was un-injured in his crash and was taken back to the paddock on the back of a scooter ridden by Tito Rabat's new rider adviser Julian Simon. 
Iannone's bike did hit the tyre wall at such a force, it prompted a red flag to be put out whilst the stewards set about repairing the damaged wall. Whilst the session was stopped, a mini safety briefing ensued in pit line including Cal Crutchlow, Aleix Espargaro, Alvaro Bautista and Jack Miller. The riders spoke to safety officer and former MotoGP rider Loris Capirossi about trying to add an air-fence in front of the tyres at T12. As a result of the conversation, a foam fence was placed to prevent the possibility of any riders hitting the wall without having something to break the impact.
Aleix Espargaro suggesting T12 needs an air fence with some fast crashes. Caparossi saying they'll look to do it next year #MotoGP https://t.co/BcSlM5picR

— GPxtra (@GP_Xtra) November 16, 2016
The session resumed at 12:05 with Marc Marquez heading the timing sheets from Dani Pedrosa.
UPDATE
Suzuki confirmed this afternoon that Alex Rins has fractured the T8 and the T12 vertebrae. There was no serious spinal damage and he still has full control over all of his limbs. He will spend Wednesday evening in hospital in Valencia before being transported via ambulance back to Barcelona where he will remain under guidance at hospital closer to his home. 
Whilst no surgery is required, the usual time required to heal from this injury is said to be 4-6 weeks of rest, which would rule Rins out of next weeks Jerez test. With no testing required then until the end of January, Rins will have enough time to fully recover before continuing his adaptation to MotoGP. 
Photos via Michelin Motorsport